Posted: Jun 29, 2012 9:00 AM
Napkins are tiny and often overlooked but if you're using plain paper napkins (or worse… paper towels!) at the dinner table, you may want to reconsider.
Custom napkins are easy to make and can have a huge visual impact on your space. If you're looking for a quick and affordable design project, this is the one to tackle!
Brighten up your space
How much time do you take to set the table for family meals? If you just throw out the plates and a pile of paper napkins in the middle of the table, you (and your family) are missing out on an opportunity to brighten up your space and repurpose your favorite fabrics. Cloth napkins are so easy to make and are an eco-friendly, stylish alternative to run-of-the-mill store bought versions.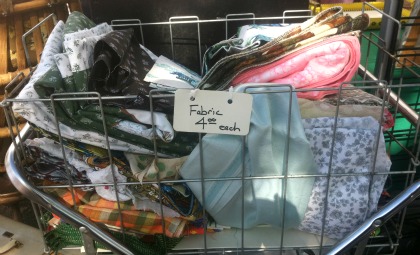 Fabric hunt
So, where do you find fabric for this project? Anywhere and everywhere! Look for fabrics that are made of an absorbent material like cotton. Some great places to look are fabric store bargain bins, craft fairs, antique markets, thrift stores or even your own closet. You can repurpose your favorite cotton button-down, table cloth, bed sheet or an old flannel shirt. The most important thing to consider is the design. If you love it, grab it and let the (super easy) craftiness begin.
Get busy
This project is so easy it should almost be a requirement in every household. You don't even need to sew to create fun and practical napkins that can be used by your family every day.
You'll need:
Fabric
Iron
Scissors
Seam ripper (optional)
Make sure you pre-wash the fabric if it's new. After ironing the fabric cut it into 12-inch squares. With the help of a seam ripper, you can create a slightly fringed edge by gently pulling threads from the borders. Voila! You're done. Seriously, it's that easy. Consider filling a kitchen drawer or basket with your new creations to encourage the kids to reach for cloth rather than paper throughout the day. Also, don't be afraid to mix and match fabric designs (yes, during the same meal) to create unique and tasteful tablescapes. These cloth napkins also make great gifts for hostesses or house warming parties.
Related articles
Change the look of a room for free
5 Home accessories to bring summer into your home
5 Perfect hostess gifts