Posted: Jul 13, 2012 10:00 AM
You don't need a cottage to enjoy the breezy colors, cozy fabrics and vintage accessories that define cottage-style decorating.
Paint
Begin with a beautiful cottagey color palette for your walls, trim and ceiling. Light blues, whites, taupes and brown shades provide a gorgeous backdrop for your office furniture and decor. Check out these soothing cottage hues by Benjamin Moore:
Wythe Blue (HC-143), Benjamin Moore's 2012 Color of the Year, is a calming, nostalgic shade that is perfect for cottage walls. Pair it with Distant Gray (2124-70) on ceilings and trim, and Van Buren Brown (HC-70) on floors and furniture. You can buy these paint colors for $25 and up at BenjaminMoore.com.
How to find your decorating style >>
Furniture
Every office needs a desk. A simple writing desk with curved lines keeps the furniture from feeling too heavy. Wicker is always a good choice for cottage furniture, but you have other options, too.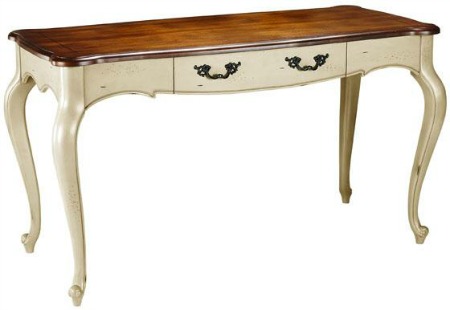 The Provence Writing Desk ($349) is stylish and practical. The gently distressed white desk features a chestnut top and will tie in beautifully with your room's color scheme. Add the Country Office Chair ($129) for simple seating. Both at HomeDecorators.com.
Change the look of a room for free >>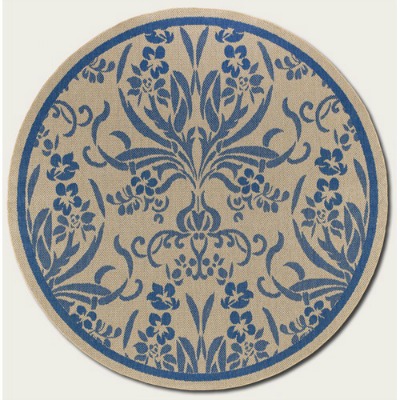 Floor
Ideally, your cottage office features a wood or laminate floor. Wide dark planks will complement your paint colors, while lighter oak flooring will keep the room airy. Whatever the composition of your floor, a pretty cottage rug will tie your room together.
The Couristan Recife Garden Cottage Blue Rug ($225) boasts a pretty blue and white floral pattern. Other cottage options include striped, toile patterned and plain area rugs. Find these at Wayfair.com.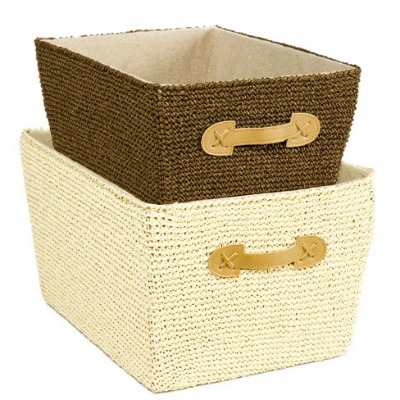 Storage
Every efficient home office relies on good storage tools to stay organized. For your cottage theme, consider baskets. Your options of materials (e.g. wicker, straw, canvas), shapes, colors and sizes are endless.
Crochet Bins ($25 to $35) are an easy way to keep papers, magazines and office supplies neatly organized. Medium and large sized bins are available in natural or mocha to blend in nicely with your cottage palette. Buy these at TheContainerStore.com.
Window treatments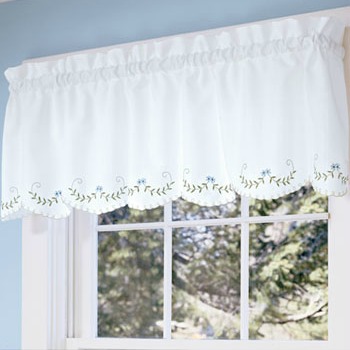 For cottage-style windows, less is more. Get a country look with a simple valance over a bare window. The Forget-Me-Not Scalloped Edge Valance ($20) adds a darling detail to your view. Purchase these at CountryCurtains.com.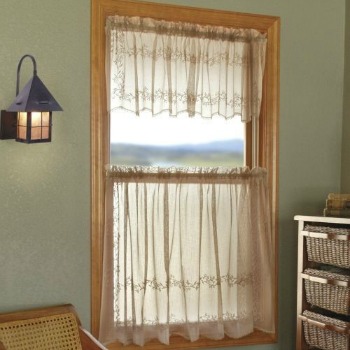 Or get vintage windows with lacy drapes. The Sheer Divine Valance ($19) and Tiers ($27) provide privacy while leaving your office bright and airy. Find these at PiperClassics.com.
Lighting and Decor
Little details really add up. The lovely touches you add to walls and desktops will complete your cottage office. Look for old, timeworn items at flea markets, yard sales and estate auctions.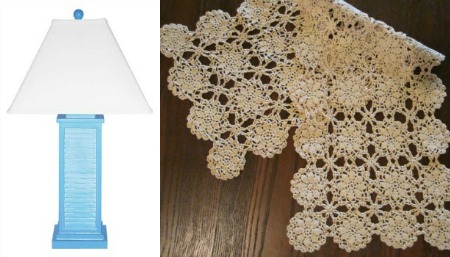 Incorporating coastal and beach decor -- seashells, for example -- evokes a cottage feel. The Papila Design Coastal Cottage Bahama Blue Table Lamp ($146) is a lovely way to do just that. Look for this at Bellacor.com.
Use vintage doilies as table runners or wall hangings. On any surface, delicate lace and crocheted doilies add true cottage appeal. Prices vary at Etsy.com.
More house help
5 Steps to declutter your home
Redesign and redefine your home after divorce
What to invest in and what to buy cheap