Posted: Mar 17, 2013 8:00 PM
Years ago I read a quote in a magazine that said you should use your home the way you live 360 days a year. In other words, you don't have to arrange your furniture to accommodate the five days of the year you have a holiday party. This thought stuck with me... that there is no rule that says a formal dining space has to house a large table and an armoire that are never used.
Then, having never discussed it, I walked into my brother and sister-in-law's new home and saw the philosophy in action. The area that the builder had clearly designated for dining was decorated with baskets of toys. A playroom right in the middle of their life! With three kids under the age of four, this is what works for them right now. They are not hosting fancy dinner parties, they are enjoying family time in a self-imposed open layout.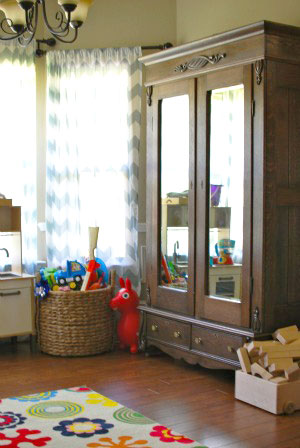 A friend in Los Angeles had a similar idea. In the breakfast nook where decorators would place a chic round table, she put a comfy couch instead. There's a television in the kitchen and space for a daily dining table elsewhere. It was more important to her to have a small living area right where her family spends the majority of their time -- in the kitchen!
At our lake home, there's a large walk-in closet. We don't need that kind of square footage to house swimsuits and tank tops, but we could use more sleeping space when friends and family pile in for the weekend. Our solution? We bought a toddler bed and a travel crib, and that's now where our kids sleep. It's simply a better use of the space, and it works for us.
While a family might make this kind of modification out of necessity, it can also be a luxury. I've seen celebrities use whole bedrooms as fancy dressing rooms, or big basements converted into man caves.
Gone are the days of formal homes and stuffy rooms. It's more practical and much more comfortable to use your home in a way that suits your family, however that looks.
Now, when my husband and I are debating a purchase or arrangement for our home, we ask ourselves if it is something that fits the way we live today. It might not be the most magazine-worthy decision, but it sure makes our home more livable.
More about styling your home
How to find your decorating style
Great graphic wallpapers
5 Steps to decluttering your home