Posted: Aug 15, 2012 8:00 AM
When we bought our lake house several years ago, I wanted to decorate with woodsy items that were fun, but not so themey that they were cheesy.
We used a number of boat-related items. My cousin painted a large piece of wood red and then screwed in boat cleats in a line, making for a cute statement piece that is also functional as a place to hang wet life jackets and clothes.
She also hung vintage wooden skis on the wall in the kitchen and old, colorful buoys on the porch.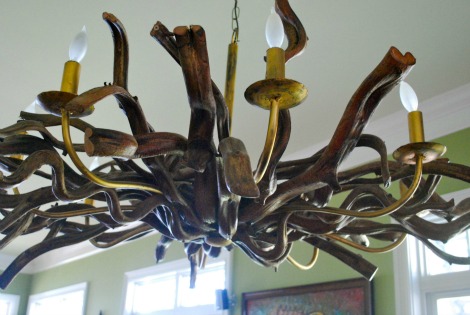 Above the main dining table, I found a dark, driftwood-looking chandelier at a rugged store in Savannah, Georgia, and it is one of the first things you see when you walk in the house.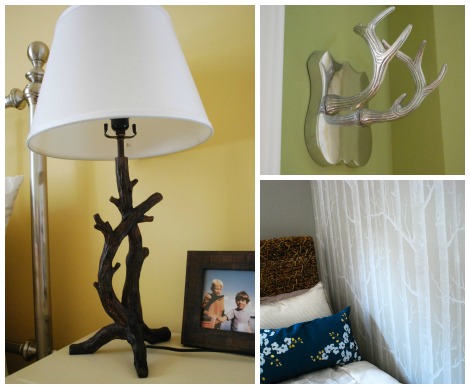 In the front hallway, I used a pair of chrome deer antler hooks from Urban Outfitters. (They are now out of stock but these branch hooks offers a similar idea.) 
Since I just couldn't get enough of the woodsy vibe, I loved this branch lamp that I found at HomeGoods. I used it in a guest bedroom, and still wish that I had purchased more than one.
I'm so glad that the wallpaper trend doesn't seem to be going anywhere, because the Cole and Son woods wallpaper makes me happy every time I see it.
From the small details, like picture frames and cabinet knobs, to the big items like chandeliers and furniture, the woodsy lake look can be found everywhere right now. It's part tongue-in-cheek, part interesting design, but there are plenty of variations to add into your regular home decoration without going overboard. Look for branches and birds as details, or found vintage items for the wall. It's a cozy style for any summer home or casual room.
More about home decor
Home improvement: New accessories
Great graphic wallpapers
How to find your decorating style