Posted: Aug 22, 2012 8:00 AM
When I was pregnant with my daughter, I just couldn't bring myself to pick the fabrics and details for the custom crib bedding that my friends were doing. I decided early on just to buy a set, and I was surprised and pleased with all the options.
It must have been the pregnancy fog, but making all the tiny decisions for custom bedding just overwhelmed me. I knew that the bumper and the sheets could really set the tone for the whole room, but the problem was that I wasn't sure what I wanted. There are so many options: modern, classic, gender-specific, gender-neutral, playful, sophisticated. My head swims just thinking about it.
My husband really wanted something fun and not too serious or plain. It was important to him that it looked like a child's room. I wanted it to feel good to the touch, since a baby spends a lot of time sleeping on the sheets. And of course we were aware of safety, making sure that the sheets fit tightly and that the bumper wasn't overstuffed.
We ended up choosing a pink zoo animal design from Dwell Studio. Since my daughter stayed in her crib until she was over 2 years old, it was well worth the investment. That was nearly 3 years ago, so the pattern is no longer available, but here are a few of my favorites from around the web:
I like almost all of the designs from Oilo. They're modern and bold. This one caught my eye because it's gender-neutral and a nice light color, so it could easily be used for more than one child, and its look would change with different brightly-colored accessories.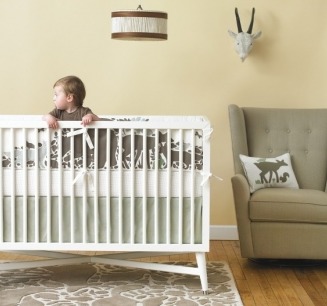 This is the company that I settled on when I chose my daughter's bedding, and I continue to love their style. The woodsy theme in home decor is all over the place right now, so it wouldn't be hard to find accessories for a room that used this bedding for a little boy.

We decorate a lot with birds and trees in my house, so naturally this cute crib bedding caught my eye. It's gender-neutral, with lots of color to play with around the room.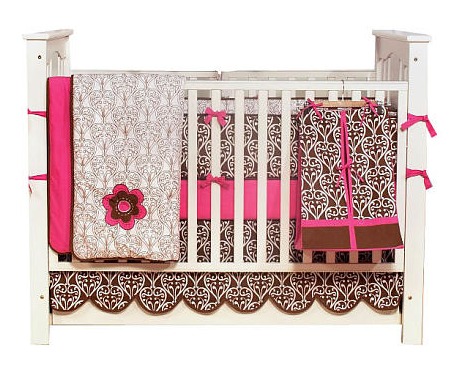 This is obviously really girly, but in a good way. I love the scalloped crib skirt, and the bumper alone looks like something that would be custom. A bonus is the very reasonable price tag.

If crib bumpers aren't for you, there are lots of good-looking options without them. This circus-themed set is cheerful and fun, not to mention that it's cute for either a girl or a boy.

Also bumperless is this option in the trendy gray and yellow color combination. This is one of my favorite sets out there. It works in any home, with almost all crib styles and parent personalities.
When I had my son last year, I knew better what I wanted, so I let my mom make the cutest crib bedding from fabric we chose ourselves. There are lots of Etsy sellers who offer custom crib bedding. But if the thought of custom sends you shrieking down the hallway, then check out these crib bedding sets for instant style.
More about baby at home
How to choose a mattress for your child
5 Expert tips for creating a stylish, kid-friendly family room
Sweet baby pictures every mom needs