Posted: Aug 31, 2012 7:00 AM
I'm a huge bedding junkie. I love big, soft fluffy beding -- great pillows, a very light down comforter, a pretty duvet and a throw blanket on top.
For someone who loves bedding so much, it took me a long time to find a quality duvet -- despite the fact my master bed has one, both of my kids' beds have them and our guest room bed has one.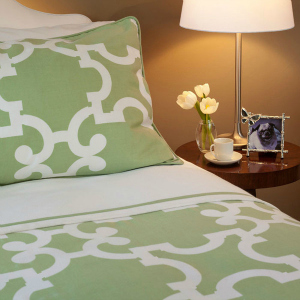 I always struggle to get the comforter positioned properly in the duvet. In fact, ask my husband -- when he's in town, it's his job. I neatly lay the clean duvet on whatever bed it belongs and leave him to it. I didn't have that issue with the Crane & Canopy duvet. The duvet pictured above is the one on my bed right now -- The Noe Green Signature. (I also have my eye on The Sutter Lilac... )
Crane & Canopy is a luxury bedding brand offering budget-friendly prices. The first line debuted this summer. If you have pricey wine taste on a boxed wine budget, Crane & Canopy is a great fit. Prices start at $99 for a queen- or full-sized duvet cover, which is the size of the adult beds in our house. The duvets feature 300+ thread count and 100 percent cotton. If you have a bed that fits the whole family, the size goes all the way up to California King.
I love textures and patterns, but I have very simple and clean taste. I've found my new happy place!
More mom must-haves
Mom must-have: Scent Bar at Target
Mom must-have: Dermelect lilac polish
Mom must-have: Envy push up bikini top