Posted: Oct 12, 2012 8:00 AM
You find yourself among a pile of baby toys, bibs and an empty crib. Memories of your child as a baby flood your memory, but your child is no longer a baby. At what point do you decide to clean up those unused toys and haul away that baby crib?
Contributed by Heather Reinhard
You gave birth and proudly share the motherhood badge of honor. You managed to get through those midnight feedings and countless sleepless nights. You even passed the teething stage and suddenly, your little infant quickly morphed into a very active toddler. To you, this all seemed to happen overnight but to your home, it's been screaming for you to organize and clean up many of those unused toys.
You know the drill -- all of those bulky baby toys and infant games have invaded most of your personal space. You can't even walk through your family room without bumping into several toys that probably need to go. Although you are aware of the fact that there needs to be a toy organization intervention in your home, you've been delaying the process.
Well, if you are not expecting another bundle of joy any time soon, it's time to put on your big girl pants and start letting go of the clutter. And we're here to give you some boost of inspiration to get started.
Prepare yourself for the process
If you are parting for the first time with that beloved crib, bouncy seat or any other special infant toy, prepare yourself. Take photos of the crib and any toys that conjure up memories for you before you decide to sell or donate some of these special items. If there are some toys that you just can't seem to part with, place them aside as you begin to organize and plan on having a storage solution for these items later.
Design a game plan
As you begin the process of letting go, divide the room into three piles: Decide what toys are staying, what items you are not sure of yet and another pile for the ones you know are definitely leaving home. Form three distinct piles as you organize and label these areas: Stay, Maybe and Go.
Get the children involved
Kids may surprise you and actually love helping you to organize! It will also give them some time to say good-bye to some special toys or items before they, too part with them. As you both work toward the task of cleaning up the clutter, you'll see that you will both be letting go and it may make the transition easier.
Create storage solutions in the space
There are tons of blogs, books and websites out there to help you get started and create some storage solutions that will fit your space and budget. After you've decided which items you are keeping, houzz is a wonderful site that provides some creative ways to keep the play area both tidy and functional. Be sure to check out 5 Ways to keep the toys tidy for instant storage and sheer design inspiration!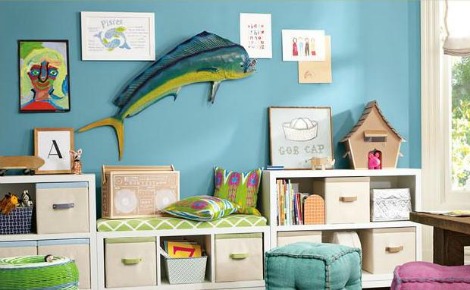 Photo credit Serena & Lily
Keep the organized space both fun and functional
Once you have a designated a toy area with less clutter, you will be able to make the most of the space to make it work for you and the kids. You are looking for functionality with some style while the kids just want to have easy access to their toys. Tons of decor inspiration and more storage secrets can be found on Serena & Lily.
So what are you waiting for? Grab a camera, take some photos of that beloved crib and begin to organize your child's room or play area -- once you start sorting and letting go, you'll wonder why you waited so long!
Heather Reinhard is the Founder and Editor of Theta Mom®, a successful leading parenting blog that began in 2009. Since entering the social media scene, Heather is considered an influential blogger with a loyal following. She created her own mom blogging community and later developed The Marketplace, a platform dedicated to supporting women in business which was named in Entrepreneur magazine as a Top Social Media Site for Mompreneurs. You can find her on her blog, Twitter and Facebook.
More tips for organization
Chic storage
3 Tips for closet organization
5 Steps for decluttering your home