Posted: Oct 18, 2012 10:00 AM
Would you rather spend time with your kids or cleaning and doing errands? We thought so. Ditch the dredge work in favor of some family QT.
Cut meal prep time
Does your hectic schedule have you rolling through the drive thru more often than you care to admit? Michelle Dudley had the same problem until she created her business, 5Dinners1Hour.com, which provides its subscribers with five recipes per week that can be made in advance and prepared quickly.
Michelle says, "With this, you'll eat so much healthier and can cook [the meals] faster than it would take you to go through the drive thru." She promises easy to find ingredients (even for the clean living and gluten free recipes), simple recipes and easy preparation methods -- all for a mere $15 per three-month subscription.
Have it delivered
You can have a whole lot more than your pizza delivered these days… and not just in NYC. Many large grocery chains will deliver your hand-selected (okay, online selected) groceries to your door for a minimal fee. Just imagine spending an extra hour after work with your family rather than rushing through the aisles of your local market haphazardly grabbing items off the shelves.
Hire it out
Turn to a professional company that can handle a wide range of personal services for your family. Valerie Riley, founder of The Riley Group started her company in 2007 with the goal to "give people back their Saturdays. We'd like to give people back time with their families, friends, and alone time if they so desire!" (Imagine that!) The Riley Group offers its clients in Dallas and Oklahoma City a wide range of services such as childcare, pet care, dry cleaning and home/office organization.
Valerie adds, "I enjoy knowing that people feel less stressed after engaging our services." Sounds like a dream come true, right? Search for a similar service in your area… and be on the lookout for The Riley Group, as the company has plans for major expansion in the coming years.
Hire a housekeeper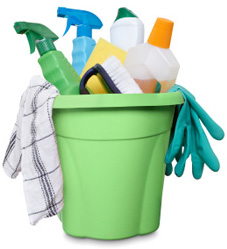 Having a housekeeper on a regular basis can cost a pretty penny. But devoting an entire day once a week (good-bye weekend) to cleaning house can really cut into your family time. Consider a compromise. Have a housecleaner come once or twice a month for the big projects like windows, ceiling fans and the top of the refrigerator. Enlist help from all the members in your family to keep up with the house maintenance (cleaning countertops, dusting, vacuuming and doing laundry) in between those professional cleaning visits.
More time savers for mom
Considering a nanny? Know when you need help
The sitter swap

Real moms' cleaning tips