Posted: Oct 26, 2012 9:00 AM
Hosting guests from out of town or family who live nearby? Start your initial preparations now so you can throw a stress-free Thanksgiving gathering. Check these simple steps off your list so you don't have to scramble later.
Don't let Thanksgiving creep up on you. Entertaining doesn't have to be stressful if you plan ahead of time and tackle these tasks well in advance of the holidays. Don't forget to assign tasks to friends and family. You can be the hostess with the mostess and still delegate. As you work through these steps, think about tasks you'll need help with and be sure to ask early.
Run inventory on your cookware and serving dishes
Make sure your meat thermometer is working!
"
"
On Thanksgiving Day, you'll be way too busy to run out and purchase cookware, tools or serving items. With your general menu plan in mind, go through what you have in the kitchen. Don't worry about big roasting pans if you usually use disposable ones. However, when it comes to serving dishes and serving utensils, make sure you have what you need. Make sure your meat thermometer is working. If you need items, start shopping now, so you can take advantage of clearance items without being rushed.
Ditch old spices and baking goods
Did your dried rosemary expire in 2006? Is your baking soda over a year old? It might be time to replenish portions of your spice rack. Spend time carefully evaluating all the spices in your spice rack or cupboard. Throw away anything expired, musty or flavorless. Check your Sunday coupon inserts for chances to save big when you head to the grocery store to restock on cooking spices.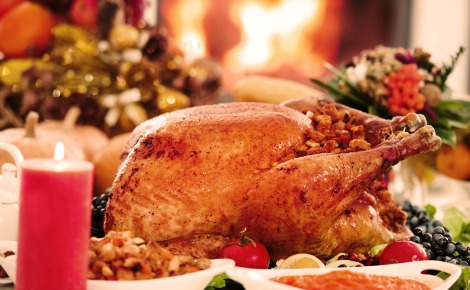 Narrow down your guest list
Give out-of-town guests, friends and family lots of time to plan on attending your Thanksgiving gathering. When you have in-laws, local relatives and people who need to travel, things can get complicated quickly. Before it gets too close to the holiday, make sure everyone knows what your plans are. If you have a local competing Thanksgiving gathering, see if you can head over there for dessert after dinner or invite their crew over to your place.
Ask guests about dietary restrictions and allergies.
"
"
Start menu-planning now
Whether you're handling all the preparation on your own or you're inviting guests to bring side dishes, you should start planning your Thanksgiving meal now. Pick your turkey size, test out any new recipes, and make sure you have a good blend of side items to appeal to everyone at your gathering. Ask guests about dietary restrictions and allergies. If you're going with an overall theme, this is also time to start stocking up on any decorative items you plan on using.
More entertaining tips
How to make lovely wax luminaries
How to be the best playdate hostess on the block
DIY cupcake wrappers