Posted: Nov 17, 2012 8:00 AM
I get overwhelmed every fall when all the decorations pop up in stores for Halloween, Thanksgiving and Christmas. It's too much to think about changing all of my seasonal home decor every few weeks for these occasions, so I've found several items that work well from September through December.
Driftwood wreaths
The flexibility of this driftwood wreath cannot be underestimated. I can leave it plain in the early days of fall, then poke in a few colorful fall leaves as the days go on, then even later add sprigs of holly or red berries. If none of that is available, I can just tie a festive bow in any color and it's instantly in season.
Similar are available at Restoration Hardware ($170), but I found this one at Homegoods for just $19.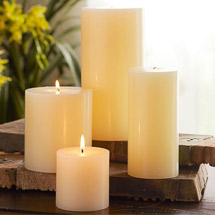 White hurricane candles
Candles are in season all year long, but there's something very holiday about lots of them clumped together. Like the wreath, they look fine on their own and even better with touches of tinsel and green. (Be careful, though, when burning.)
Pottery Barn has an array of sizes ($3 - $27), and they even have flameless wax candles ($12.50 - $34.50) if you're worried about safety.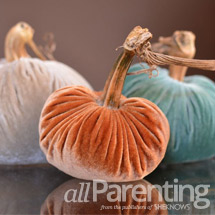 Velvet pumpkins
Pumpkins are appropriate decor for all the last months of the year. This velvet set ($84) from the LoveFeast Shop is new to my holiday table this year, and I couldn't be more pleased with the style and versatility. They're an eye-catcher as a centerpiece, but also look great on a mantle — and eventually I'll move them under the Christmas tree.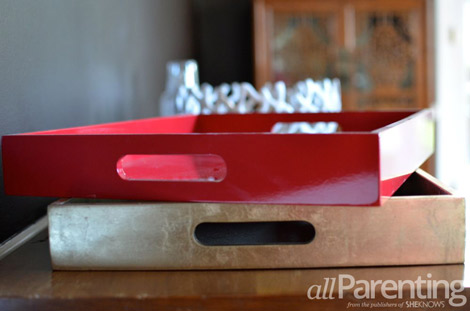 Colorful trays
I have all white dishes and clear glasses, so my food presentation would lack interest without the colorful trays I use to serve. These are both from West Elm ($24) and they come in a variety of sizes and colors — most appropriately for the holidays are red, gold, silver or even white.
I like my home to feel extra cheery and festive during the holiday months, but with two small children and a busy schedule, I can't keep changing all the decor. I like that there are holiday accessories that work with my style and can last for months around the house.
More about the holidays
Decorating for Thanksgiving
Roasted pumpkin and crispy prosciutto macaroni and cheese
Start planning Thanksgiving