Posted: Dec 03, 2012 6:00 AM
The guests are arriving in 20 minutes. Beads of sweat are trickling down your forehead as you pull the baked Brie out of the oven, rethink your playlist and curse yourself for not buying enough white wine. And you can't help but wonder why you're stressed because you really do love hosting.
If the hostess is happy...
You know how that old saying goes: If the hostess is happy, everyone is happy? Okay, so maybe that's not exactly an old saying, but it should be because if you want a party where the guests are relaxed and having fun, then guess what? You, the hostess, have to be relaxed and having fun. And this can easily be accomplished if you take a page out of our happy hostess playbook.
Don't over-accessorize
Just like with your outfit, you don't want to over-accessorize your party either. So take a good, hard look at your soiree in the mirror and take off at least three things that you don't really need. It's easy to go crazy trying to incorporate every cool idea you saw on Pinterest, but remember, less really is more.
Do keep it small
There's nothing worse than a party so big you couldn't have a conversation with each party-goer even if you tried. Be selective about the size of your guest list and you'll have a much better time. You'll be able to mingle and not worry that you haven't been able to talk to everyone. Still finding it hard to make cuts? Have a second party down the road and invite the rest of the people to that one.
Don't be last minute
You're busy, so it will be easy to put off the party planning until the last minute. But don't! If you carve out just small windows of time between now and the festivities, you'll be able to get most of the work done before you reach the party date. The day of should be about finalizing the details, not running all over town trying to find a heat lamp. Be sure to give yourself at least an hour (but two is better) to get ready before the guests begin arriving.
Do get a little help from your friends
You don't have to do it all. In fact, if you don't, the party really will be more successful. Whether you hire a caterer, buy pre-made food at the store or ask a friend to host with you, you'll find yourself breathing a sigh of relief that your to-do list has been cut in half.
Do have a hostess in case of wine emergency kit
And one final rule of thumb? Make sure you're stocked with an in case of wine emergency kit so you can keep that vino flowing.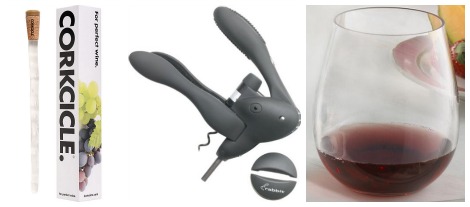 Warm white wine?
No worries! Now, when a guest brings a room temperature bottle of chardonnay, you won't have to stress about not having enough time to chill it so it can be enjoyed at your party. Corkcicle Wine Chiller to the rescue! (Paper Source, $27)
Corkscrew too slow?
No problem! Invest in a fast and functional corkscrew like the Metrokane Rabbit Corkscrew, which will open a bottle of wine in one pull. (Amazon, $40)
Broken wine glass?
Not an issue for you because you served your vino in plastic, BPA free, tumblers. (Wine Enthusiast, $20 for a set of 4)
More happy hostess entertaining tips
Make houseguests feel special
Start planning Thanksgiving
Get lit: Perfect party lighting for outdoor entertaining