Posted: Feb 10, 2012 6:00 PM
The best thing about decorating for kids is that you can really let your imagination run wild like I did in my three kids' rooms below! The more fanciful, the better.
Contributed by David Bromstad
The color scheme, the motif, wall murals, oversized furniture, undersized furniture — anything and everything goes in kids' rooms and too much is usually just right.
Make a personal statement with a mural
I love wall murals. They make a huge visual statement and add a quality of art to the room. Obviously it's not always possible to get one custom painted, but you can now buy peel-and-stick wall decals in so many amazing patterns and pictures. Check out MuralsYourWay.com. They have hundreds of fab options including my very own designs.
Another great option is to paint one wall with chalkboard paint and let your kids create their own murals!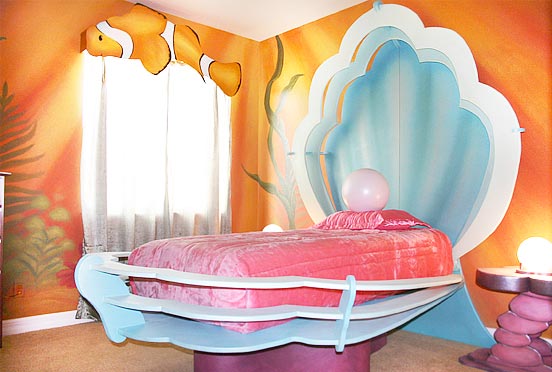 Go color crazy
Don't be afraid to go bold and bright with your wall colors. Yellows, oranges and pinks are energizing colors that have very positive psychological effects. If you're not handy with carpentry, doing custom pieces like the clam bed above can be difficult and expensive. But you can still help them create a fantastical space with curtains or even a tent. Make going to sleep a fantasy journey for them every night.

Create a focal point
If you don't want the whole room covered in your crazy motif, you can focus all of it on one wall as I did above. It still has the same impact with much less work. Always feature the wall that is behind the bed as the main focal point of the room.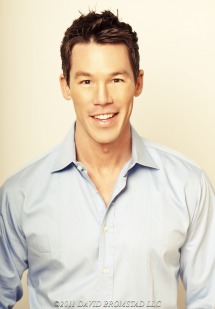 David Bromstad is the original winner of HGTV Design Star, which led to his gig as host and designer on his first hit series for HGTV, Color Splash. David completed more than 100 makeovers for Color Splash around the country including San Francisco, New York and Miami. David has also appeared on HGTV programs including HGTV'd, HGTV Showdown, Bang for Your Buck and more.
David Bromstad can currently be seen on two of television's hottest design shows! In April 2012, Davidlaunched the new series The White Room Challenge on HGTV, based on the popular HGTV Design Star challenge of the same name. The show features David as host and judge, with four designers competing each week. In May 2012, David returns for the biggest season of HGTV Design Star yet! David will serve as host of the series for the first time ever, as well as resuming his duties as contestant mentor.