Posted: Jan 08, 2013 8:00 AM
Move over, Martha Stewart. A simple, modern pantry makeover with tips that will keep your kitchen shelves organized and your culinary life in order.
With all the chaos of life with kids, it's hard to keep everything in its place. One way you can bring some organization back into your home is by getting your pantry in order. It's amazing how a few dollar-store bins, some labels and a little planning can make you feel like you're finally on top of things!
Bins, canisters & containers on a budget
When it comes to organizing your pantry — skimp, don't splurge. Shop your nearest dollar-store retailer and stock up on bins and canisters. With a little bargain shopping, I was able to reorganize my entire pantry for less than $20!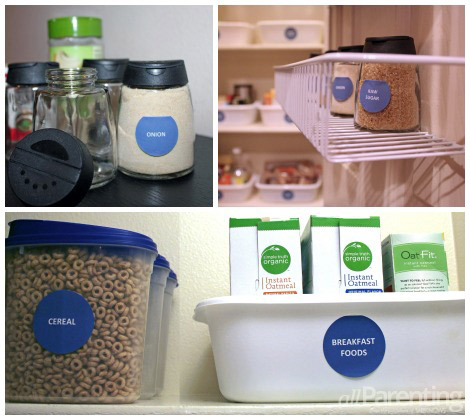 Supplies
Start with a clean slate
Once you have all of your materials, it's time to roll up your sleeves. I pulled everything out of my pantry, cleaned all of the shelves and tossed out anything close to expiring. Then, I lined up the white bins on my countertops, labeled the bins and sorted all of my items by grouping them into each container — like soups, pasta and sauces, canned vegetables, breakfast and bread. All I had to do from there was place the bins on the shelves. These $1 white bins are great because they look sharp, they keep everything in one place and they're a really smart use of space.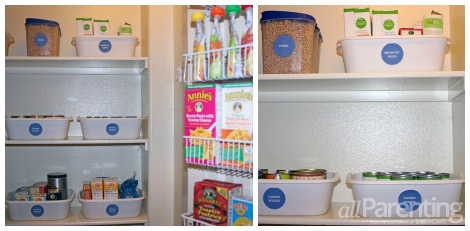 Don't forget your door!
Most of us spent a lot of time piling way too many things on top of our shelves, making our pantries look like a canned-vegetable Jenga game gone bad. Consider attaching an organizer onto the inside of your pantry door. It not only saves space and gives you more storage so your pantry feels less cluttered, but it's the perfect place to separate food for family members that might have special dietary needs, like gluten-free fare or diabetic foods. Since we feed our kids mostly organic and food-coloring-free foods, we keep all of their pasta, snacks and pantry foods organized inside the door rack. Doing that makes it easier to plan and prep meals since it's all easily-visible in one place. Plus, it takes the guess work out of meal time for grandparents or babysitters because they always know exactly which foods are good for the kids to eat, even when we're not home.
More on organizing your home
Chic storage
How to find a place for (almost) everything
Cleaning up the toys and learning to let go