Posted: Jan 30, 2013 12:00 PM
From soccer balls to snack packs, once you have kids your car becomes the catchall for all things kid-clutter. These must-have car organizers will help you regain control of your car again… and might even have you looking forward to the next road trip. Are we there yet?
When it comes to keeping car clutter in check, you no longer have to sacrifice style for substance. You will have to set some ground rules, though, if you want to keep it all together beyond the novelty of the new gear. Some quick tips include: scheduling a weekly clean-out day and sticking to it, establishing ground rules about food and drinks with the kids, and if you can't get to a car wash, make sure you at least vacuum the inside with a handheld vacuum to keep crumbs and dirt at bay!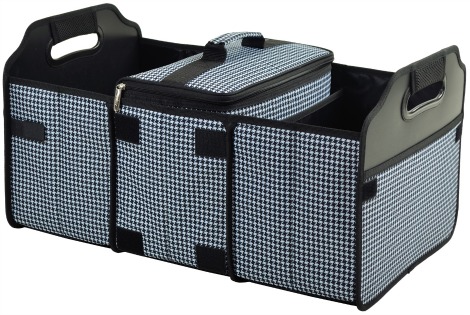 Bold and beautiful
This houndstooth collapsible trunk organizer with cooler by Picnic at Ascot (Space Savers, $50) serves several functions. It's a three-section trunk organizer with a removable Thermal Shield insulated cooler. Plus, when it's not in use, just remove the cooler and fold the organizer flat so you can save trunk space. Keep sports gear, toys or groceries organized in style!

Stylish SwingAway
Keep everything organized and easily accessible with this HighRoad SwingAway front seat organizer (Cargo Gear, $10). Paperwork, DVDs, sunglasses and your cell phone never look so stylish. This organizer has seven pockets and hangs from the passenger seat headrest. It gets its name from its functionality: Keep it on your passenger seat headrest and when you have a passenger in the front seat, just swing it away to the back!

Mod mobile
The Mod Mobile litter bag ($20, Amazon) for your car is designed for small trash, like gum wrappers, receipts and all of the little things that clutter up your cup holders and driver's side pockets. The outer case is made of decorative fabric, lined with black canvas. The inner liner is made of black post-consumer recycled plastic that keeps the bag open and easy to access while you're driving.
Organize in a snap
This line of car organizers by sugarSNAP is keeping moms everywhere in check. Their Car-Go set (sugarSNAP, $52) comes with a durable storage bin and six matching file bags. Each file bag has a tab on top, so you always know what you're grabbing and don't have to dig into a bottomless pit, like you might have to do with a trunk tote. The files come in multiple sizes, so you can store everything from diapers and wipes to lotions and even a change of clothes. Plus, they unsnap from the storage bin so you can pop them straight into your purse or diaper bag, as needed.
Related reading
Cleaning up the toys and learning to let go
5 Steps to decluttering your home
Clean once a week, tidy daily