Posted: Feb 15, 2013 11:00 AM
Nursery inspiration can be found in a favorite stuffed animal or photo in a magazine. Building a gorgeous nursery around a whimsical art print can create a unique space you and your baby will both love. Find inspiration for the rest of your nursery decorations in this group of wall art perfect for any nursery.
Nursery decorations seep from every corner of baby stores — the sheer amount of choices overwhelming. Whether you're thinking of soft pastels or bright splashes of color, sweetly girlish or gender-neutral, nursery inspiration can come from a single item. These six kids' art prints are adorable enough to spark your creativity into an entire room.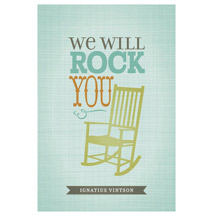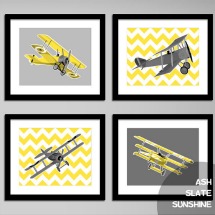 As you prepare to spend evenings rocking your little one to sleep, hang up this homage to Queen's rock anthem. The We Will Rock You print combines modern fonts and relaxing colors with an old-fashioned rocking chair and is available in various sizes (Minted).
Let his dreams reach the clouds with this Boys' Airplane Nursery Art (Etsy). Combining World War I aircraft images with a modern chevron background, this set of four prints blends the past and present in a contemporary fashion. Prints can be customized by color, so let your inner designer take flight as you decide between paint samples.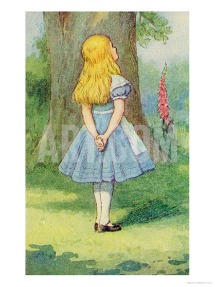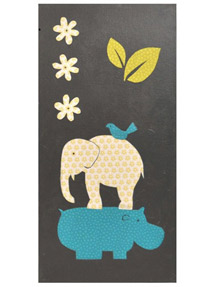 This Tenniel print of Alice and the Cheshire Cat, from Lewis Carroll's Alice in Wonderland brings a literary touch to a feminine nursery (Art.com). Alice's blue pinafore and blond hair are bright spots of color to play up in other nursery elements.
Delicate patterns and charmingly stoic zoo animals balance atop each other in this hand-painted, rectangular print. Elephant and Hippo, a gender-neutral nursery decoration with saturated colors, will make a gentle statement on your baby's wall (Rosenberry Rooms).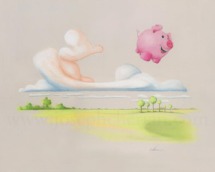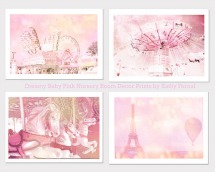 When Pigs Fly combines whimsy and careful attention to shading and detail in this giclée print — sure to inspire a nursery to make any baby smile (Joseph Cherian Gallery). The artist also produces custom portraits from photographs, so you can add personalized images to your baby's room as he or she grows.
A flight to Europe may seem out of the question with a newborn, but mom and baby can escape to Paris when they slip into a nursery inspired by these feminine carnival prints. Add girlish details like creamy white furniture and chenille throws in coordinating shades of pink. The set of four Pink Carnival Festival Photos brings an elegant air to a girl's nursery (Etsy).
More about nurseries
Cute crib bedding
Nursery planning time-line
Eco-friendly nurseries