Posted: Mar 11, 2013 9:00 AM
If you're looking for an easy St. Patrick's Day craft to make with your kids, try these simple shamrock paper pinwheels. These DIY shamrock spinners are a cinch to make and require only a few supplies!

Gather the shamrock supplies
I fell in love when I first saw paper shamrock pinwheels on The Mother Huddle blog because it's the perfect St. Patrick's Day craft if you don't want to buy a lot of supplies or if you're short on time. All you need are:
Scrapbooking paper: In shades of green, or even St. Patrick's Day patterns. I bought the patterned 12 x 12 scrapbook paper pictured here at Michaels (Michaels, $1)
Glue
Pipe cleaners
Scissors
A hole punch and pencil — although you can complete this craft without either one of these tools if you don't have them handy!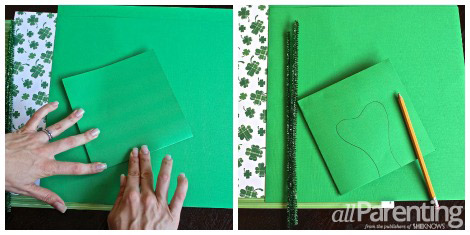 Make the clover leaves
Take your scrapbook paper and fold it twice so you have a perfect square. Start from the side of the paper that does not have a fold, so you have four lose edges at the bottom, and draw a single clover leaf from the edge of the paper up. Cut the leaf out, slicing all the way through each layer at once. You can make your clover leaves just about any size within the folded square, but medium-sized leaves tend to keep a stiffer shape and spin easier.

Glue and prep
After you cut through the paper, you should have four separate clover leaves. Take the bottom left corner of each clover leaf, bend it upward at a diagonal and glue the leaf together at the base. Once the glue dries, line the clover leaves up so they all meet together at the base — replicating a four-leaf clover. Mark with a pen where you need to punch a hole for the pipe cleaner. Either use a hole punch or poke through the paper with the tip of your pen.

Create the shamrock stem
Once you have a hole in the clover leaves, thread a pipe cleaner through the center. Then, twist a second pipe cleaner down around the first one, so the stem is doubled-up. Leave the tip of the first pipe cleaner poking through the center, fan the leaves out to create a four-leaf clover, then just bend the stem so it points straight down and you're done!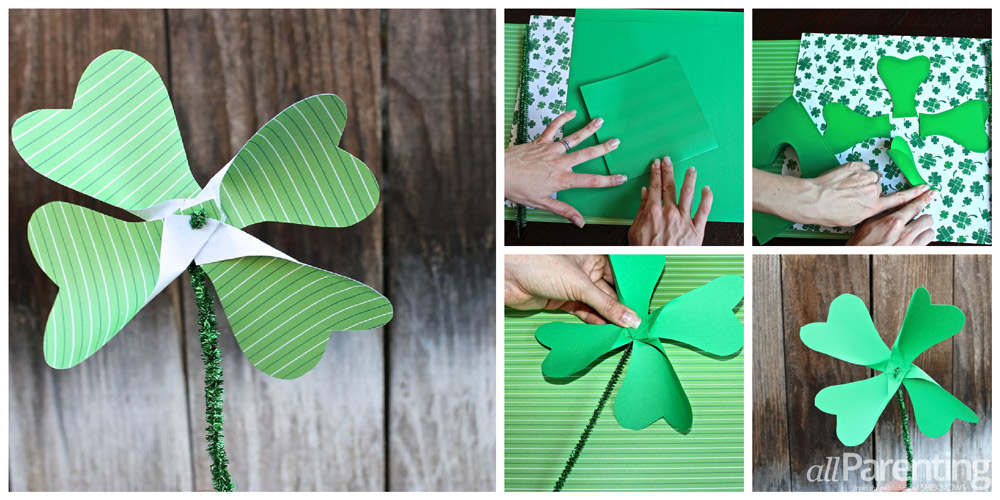 You might also like
DIY cupcake wrappers
Learn how to knit home decor
Paper poofs: The perfect party accent