Posted: Mar 22, 2013 9:00 AM
Easter decor seems all about the eggs... whether you have an Easter egg hunt or not. We've all dyed eggs with dye kits, but why not take your eggs to the next level? These eggs are so incredible and creative, you may want to leave them out all year long.
Think eggs are only for Easter decor? We found some fresh new ideas for eggs — a few creative works of art from Etsy and a few you can try to make on your own.
Do you crochet?
These beautiful crochet covered eggs look delicate, graceful and truly unique. Anne is the creative soul at Flax & Twine, and she gives an amazing step-by-step tutorial to share her patterns for making these lovely eggs, which would be beautiful displayed in a basket or bowl, or hanging in front of a mirror.
Chalk it up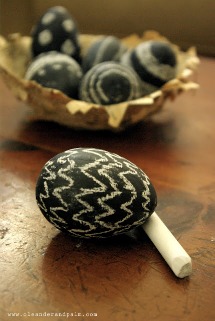 Who knew chalkboard paint would be so fun on an egg? These chalkboard paint eggs from Jeran at Oleander and Palm are easy to make, and fun to decorate. You can create fun designs with paint pens, or play around with chalk and change it up every day. The black is an interesting contrast to the usual pastel shades.
Glitter is glam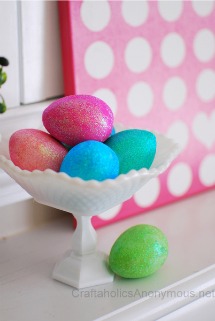 Who knew eggs could be so glamorous? Linda is the craft addict at Craftaholics Anonymous and she shares a great tutorial on how to make these awesome glitter eggs. These are great for Easter, or anytime really... the only limit is your imagination.
Wooly treasures

These felted wool eggs from the Watchncons shop on Etsy are made by using a felting needle to poke wool fiber hundreds of times until the right shape is formed. They are made from 100-percent wool, and are about 1-inch in diameter. Display them in a small nest or bowl for a cute punch of color or give as a gift.
The real deal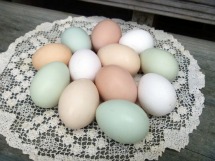 The thing about chickens most people don't realize is that they lay a rainbow of different colored eggs. If you have your own hens, you know what a variety of shades there can be. Lisa is the creative mind at Fresh Eggs Daily, and she sells these beautiful hand-blown eggs on Etsy in a natural array of colors straight from the hen. They make a beautiful display any time of year.
Faux real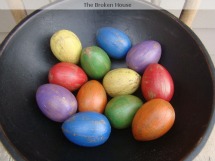 These eggs only look real but they are crafted from paper mache in pastel or bright colors by The Broken House on Etsy. The paper mache eggs are sanded and stained to achieve an aged look, then sealed with a coat of satin varnish. Just about the size of a standard chicken egg, these make a great decor item any time of the year.
Old world tradition

The beautiful eggs from Ukrainian Easter Eggs on Etsy are made by Katya and are works of art. The designs are both modern and traditional, and she has many different colors and designs to choose from. They would be just as beautiful in an Easter basket as they would on a dining table centerpiece.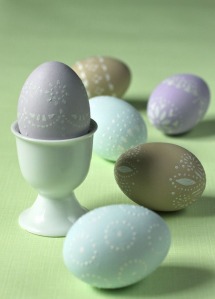 Stencil me in
These gorgeous doily stenciled eggs look like something out of a fairy tale. Suzonne is the crafty soul at Urban Comfort and she has a great tutorial on how to make these beautiful creations. Display them in egg cups, in a basket or hang them from a ribbon in front of a mirror or window.
Try some of these unique Easter egg ideas this year, for Easter decor you can use year-round.
More home decor ideas
Learn how to knit home decor
DIY: Make wax luminaries
Paint chip dry erase calendar