Posted: Mar 27, 2013 11:00 AM
Are you ready for a spring pick-me-up? Nothing spruces up a room faster than a fresh coat of paint. We've got the freshest paint trends for spring to share for any room in your house.
Spring means a fresh start, new beginnings and new attitude. Want to bring that spring feeling to your home? Check out the latest spring 2013 colors and see which one tempts you to spruce up a room — or two.
Spring 2013 colors
Who determines what the hot colors are each season? Pantone is the world-renowned authority on color, and responsible for accurate communication of color from designer to manufacturer to the retail customer. When you start seeing lots of variations on a specific color across product categories, you can bet it was on the Pantone trend list. There are ten colors on the 2013 list, with emerald given the honor of being Pantone's 2013 Color of the Year.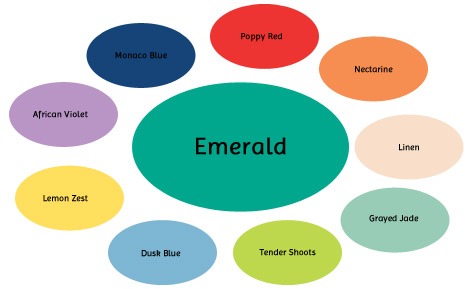 Novel neutrals: Dusk Blue, Grayed Jade, Linen
Light and bright colors: Emerald, African Violet, Nectarine, Poppy Red, Lemon Zest, Monaco Blue, Tender Shoots
Bring them home
How can you use the color trends in your home? By changing paint colors and adding a few new accessories, you can completely change the look of any room without spending a lot of money.
Bathroom
In a small area like a bathroom, you can do an accent wall in a brighter color, and also use accessories like new towels or bright cabinet knobs to bring in the bright color. We love the bright pop of Nectarine on a wall in a guest bathroom, brightening up an often-overlooked space.
Bedroom
Your bedroom should be your sanctuary, a place to relax and unwind. Softer hues are perfect in the bedroom. We love a subtle blue (like Pantone's Dusk Blue) for the walls, accented with a soft white or cream for ceiling and trim.
Kitchen
Anything goes in your kitchen — why not spend some time giving it a signature look? We love the look of yellows and greens, like Pantone's Lemon Zest and Tender Shoots shades. Don't limit your thinking to just the walls, either. Painted cabinets are a great way to bring bright color accents into an otherwise dull space. Accented with a bright pop of white trim, your kitchen will actually look like a fun place to spend some time.
Living area
You spend a lot of time in the living areas of your house. This is a great place to have some fun with new colors! An accent wall in a bright color (think Poppy Red or Monaco Blue) changes your whole outlook and gives the room a totally new feel. Bring in new throw pillows that pick up the accent color for an inexpensive update.
Ready for a change? You'll be surprised what a fresh coat of paint in a new spring shade will do.
More home improvement
Kids live here too
Home improvement: New accessories
How to create the perfect picture wall
Color swatches credit: Pantone