Posted: Mar 25, 2013 10:00 AM
Do you have a little princess in your house? Make her a cute flower fairy crown with simple tools and supplies — or make a whole bunch for sweet party favors.
Soft flowers and flowing ribbons replace rhinestones and sequins with this romantic flower crown fit for a fairy princess. Learn to make a sweet little crown of flowers perfect for a DIY party favor or festive addition to the dress-up bin in just a few easy steps. Take a quick trip to your favorite craft store and hardware store and you'll be all set to start creating a magical fairy crown.
Materials
Craft supplies:
1-2 bunches of assorted silk flowers
1 yard decorative ribbon
1 decorative butterfly (optional)
Glitter (optional)
Spray glue (optional for applying glitter)
Tools:
Hardware store Supplies:
Coated wire (cut to preferred length)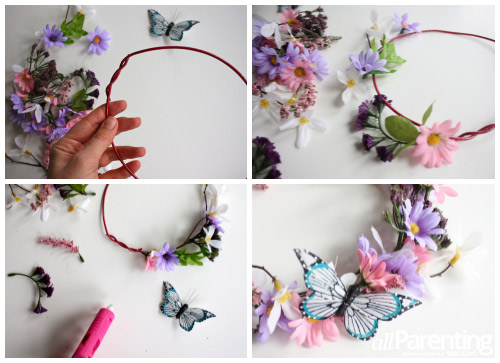 Directions
Start by shaping your coated wire in a circle and twist the ends around each other (keep sharp edges wrapped to the outer edge of the crown). These will eventually be covered in ribbon and/or flowers.
Clip your desired flowers and leaves from the bunch, leaving a 1/2- to 1-inch stem for placement.
Set your crown on a protected surface and start arranging flowers and leaves in a rough pattern around your crown. Plug in the glue gun so it's hot when you're ready to use it.
Start gluing flowers in place. Overlap heads of flowers to hide stems and glue. Don't worry about being too perfect. You can always go back and fill in any holes by layering in additional flowers and leaves once you've made it around your crown.
When you feel you have achieved your desired design and fullness, you can play with the placement of the butterfly. I think it adds a whimsical touch but it's your choice.
Add decorative ribbon to the back center of your crown. This can be marked with a knot or a bow. Multiple strands of ribbon flowing from the back for added movement and drama can be very pretty.
And finally, consider giving the entire crown a light layer of spray mount glue and then dusting it with glitter. In just a few minutes you will have created a charming little crown. They make a fun birthday party favor and a long-lasting addition to your child's dress-up bin.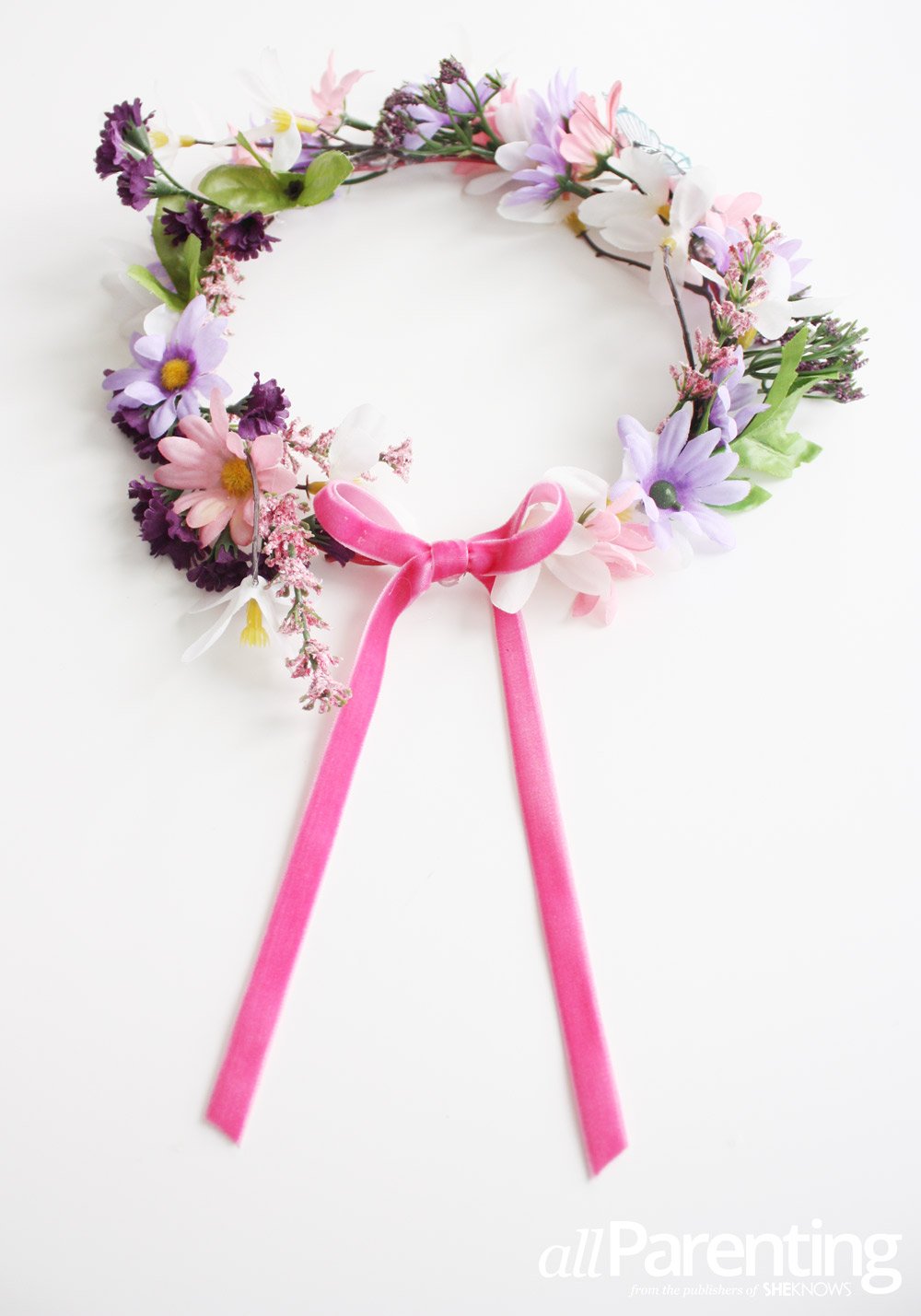 More fun crafts
Cleaning tips for crafty kids
How to make a paper boat craft
Sharpie tie dyed T-shirts