Posted: May 05, 2013 8:00 AM
Filling your walls with beautiful words and fun wall hangings is a great way to boost your home's coziness for your family. Whether you love decals, framed art or wall hangings, we've found the perfect home decor for you! You'll love these looks, deals and the small shops they come from!
Boosting your home's coziness has never been easier with the rise in popularity of decorating with words. Favorite sayings from sweet and inspiring, to downright silly, can fill your walls with whimsy — and your home with sweet decorating style. We've found four perfect ways to add a little word fun to your family's home decor!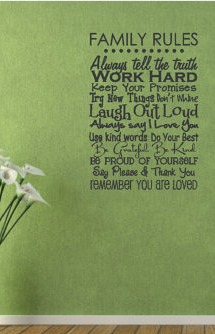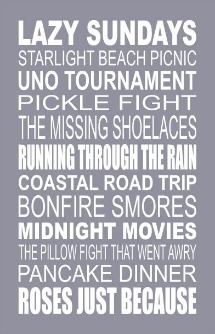 We love Visions in Vinyl's trendy and fun vinyl decor. Because decals are easy to apply and come in a variety of sizes and colors, they're the perfect addition to any bare wall. This example boasts whimsical lettering and the sweetest of family messages.
Breeding Fancy's Custom Word Art is literally art made out of family memories. A handful of your family's cherished moments, trips or sayings are listed in this chic print that makes for a lovely decorating focal point, and conversation starter. Lyrics to a favorite song would be lovely listed here as well!
By Rubbish Love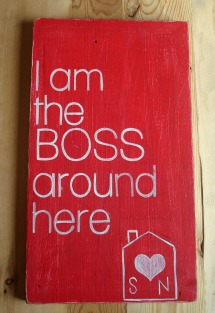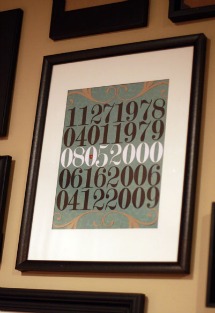 We love the look of Rubbish Love's wooden signs. What we love even more is the flexibility you have in personalizing them! You can fill these pretty signs with your family's name, mantra, favorite words or silly sayings that make you smile. A unique take is printing quotes from your children that you've found yourself saying, "We have to write that down!"
Signs by Andrea stole our hearts with unique, personalized decor. This example lists a family's important dates such birthdays and anniversaries. Meaningless to guests, this decor truly features what's important — your family.
One more thought
Any words that make you happy should be kept close and within reach. We love using Zazzle or Etsy to personalize artwork with inspiring and whimsical sayings. Some of our favorites include: "Whatever is lovely, think of these things," and, "Remember, as far as anyone knows, we're a nice normal family." Whatever you choose, your words are sure to become a favorite decor piece!
More on decorating
Vignettes: Make your house a home one small section at a time
Great graphic wallpapers
My favorite home decor blogs