Posted: Apr 12, 2013 8:00 AM
Spring is the perfect time to plant a pumpkin patch. Let the kids get a little dirty this weekend and sow some pumpkin seeds. By fall the entire family will have grown their very own Jack-o'-lanterns.
There are few things more satisfying that watching a plant sprout from seed and flourish into a blossoming gift from the earth. Children and adults alike delight as they watch brave little leafy greens turn from babies to sprawling vines heavy with blossoms and eventually cheerful pumpkins. Now is the time to prep your soil and drop a few pumpkin seeds in anticipation of a bountiful fall harvest. It's an easy crop that provides major bang for your gardening buck. No green thumb required.
Find a sunny spot in your yard with plenty of room for your pumpkins to grow. They love to soak up the rays all day long and eventually grow very large vines so give them room to stretch out. We plant ours along the side of our driveway that is normally just filled in with wood chips during the winter months. Pumpkins are a low maintenance crop that just need sun, room to grow and daily watering once they are established. Be careful of snails feasting on young sprouts. Use a traditional slug repellent or try surrounding your seedlings with ashes from your fireplace or small dishes of beer. Yes, they will literally drown themselves before they make it to your precious plants.
The experts will tell you to work your existing dirt with a bag of good quality soil from the nursery. Build a small mound for each seed so the vines and pumpkins can creep down and out from their original planting location. And while I normally adhere to this line of thinking, for the past two years I've skipped the soil prep and mound building and have had great success. I simply loosen up the soil with a hand rake, work in a bit of organic fertilizer to ensure strong and healthy roots (I love E.B. Stone Sure Start), and let my daughter drop in a seed. She pokes it down about an inch and half and then loosely covers it with soil. Note: When working with fertilizer (organic or not) always wear gloves and wash hands when you're finished. Same goes for your little helpers.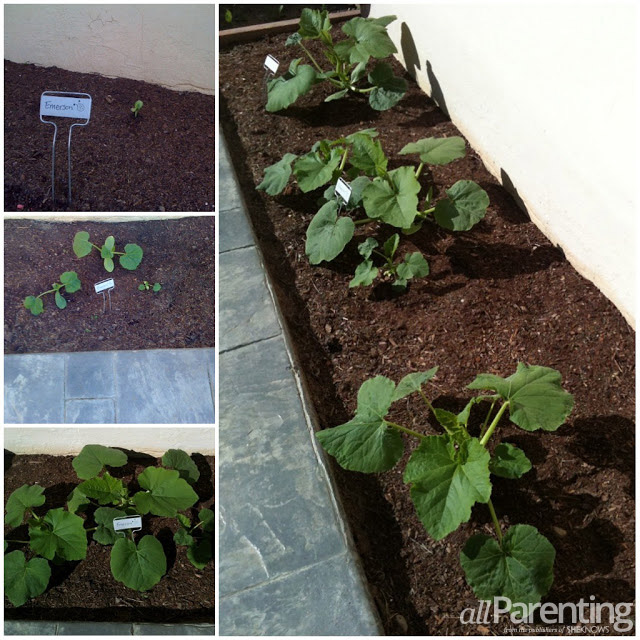 We plant around 12 seeds and mark several planting sections with a name plate for my daughter and her closest friends. They love to come by and visit their pumpkins throughout the summer and compare the various shapes of their eventual Jack-o'-lanterns. By mid-summer, your vines will be taking over and the leaves will be huge — often hiding your baby pumpkins. The kids will love searching for signs of growth under the leaves each morning. It's a bit like Easter egg hunting. And watching as your pumpkins transform from green to orange is a daily delight that is not to be missed. It's a reminder of the magic show that is mother nature.
By October you'll be harvesting pumpkins and arranging a neighborhood carving party. And the only real effort will have been a bit of soil prep, a few dollars for the seeds and daily watering. They are a thirsty crop.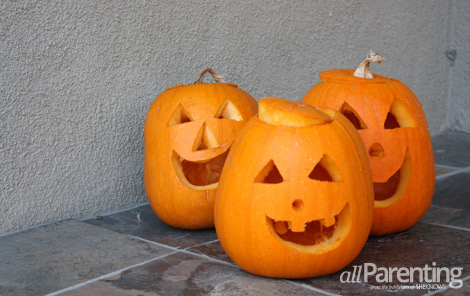 This year we're planting traditional pumpkins for carving and a crop of Cinderella pumpkins for variety. I think they'll look darling for fall decorating and for gifting our favorite neighbors — and I've also heard they are especially sweet for cooking. Fingers crossed for a bountiful growing season.
More on gardening
A pallet garden for small spaces
Herb garden in a box
How to create a kid-friendly and parent-friendly backyard