Posted: Jan 19, 2014 9:00 AM
Don't tuck your craft supplies away where no one can see them. Use these innovative storage methods to display your craft goods.
Craft supplies have a way of multiplying and taking over spaces. Get organized without sacrificing style. We talked to some crafters about great ways to store crafts decoratively. Find inspiration as you learn what you can do with your own craft supplies.
Store pens, scissors and pencils in jars

Mason jars, plastic tumblers and glasses make excellent storage for your pencils, pens, markers and scissors. Color-coordinate your writing utensils for a rainbow effect and line them up on narrow shelves. To give a little pop of playful color, The Farm Chicks used baking sprinkles at the bottom of a Mason jar. This is a fun way to store writing utensils as long as your kids won't get into them. Try substituting sprinkles with colored rice and creating a mismatched display with thrifted glasses. Use a variety of colored plastic cups for coordinating your crafting tools along a thin picture shelf.
Decorate the playroom with art supplies

Instead of keeping arts and crafts supplies hidden in drawers and cabinets, use them as part of your nursery or playroom decor. Holly Isaacson from Holly's Arts and Crafts Corner remodeled her playroom to create a functional art space that shines with color. "For the design, I really just wanted something that was fun, bright and inviting," says Isaacson. "A space where my children would be comfortable and could create to their heart's desire." She used open shelves, wire racks and magnetic organization strips to display art supplies brightly and usefully.
Get inspired with mismatched, inexpensive storage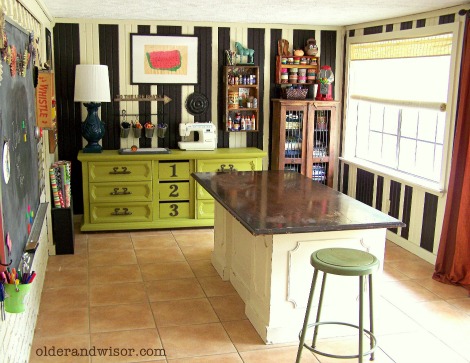 Blogger Rebecca Wisor put together a stunning craft room on a tiny budget by upcycling what she already had and scouring Craigslist for deals. "Keeping supplies out in the open not only reminds me of what I already have, but also makes the room what I want it to be: inspiring," says Wisor. "Spools of colorful ribbon, rows of paint bottles and cute stacks of folded fabric not only make for happy eye-candy, but also get my creative juices flowing and beg for me to play!" Keep your supplies front and center so that you never lose track of what you have.
Great storage picks
Looking for a few essential storage items to display your goods stylishly? We found a few choice storage picks to spice up your craft room and keep you organized and inspired.

More crafts and DIY
Homemade water color paints
Make a mason jar bird feeder
DIY Fabric flower necklace