Posted: Jun 17, 2013 10:00 AM
Stainless steel appliances have dominated the kitchen market for years, but updated white finishes and splashes of color are poised to make a design revolution. If you're not ready to take the remodeling plunge, try a smaller pop of color in your kitchen accessories.
Whirlpool is cool as ice
White kitchen appliances might make you think of pebbled surfaces and inexpensive finishes, clunky handles and inexpensive replacement pieces. Whirlpool's White Ice collection is challenging the idea that a luxury kitchen needs to be outfitted in stainless steel or hidden behind wooden cabinet elements. Streamlined, modern handles are designed with usability in mind, and larger glass viewing windows make it a breeze to keep one eye on dinner from anywhere in the kitchen. The French Door Refrigerator (Whirlpool, $2299) has a smooth, easy-to-clean finish that will make your kitchen feel bright, clean and modernized.
Color as a conversation piece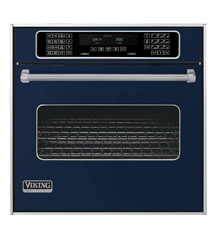 Many social gatherings end up in the kitchen, with people chatting around counters. Viking appliances can add color to your kitchen in custom finishes from Wasabi to Apple Red. Bright appliances allow you to bring real personality into your kitchen and can be a gorgeous way to showcase your design style. The Viking Professional Premiere Series oven (Designer Home Surplus, $2250) is available in 24 finishes and shown here in Viking Blue.
Retro kitchens rock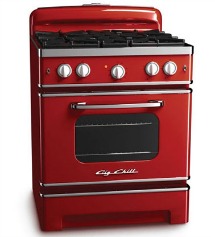 Retro styles lend themselves to whimsical colors, so consider taking your kitchen back in time during your next renovation. Big Chill melds the look of retro appliances with the usability of modern ones and can make any of your kitchen dreams come true with their 200 custom colors. Their Cherry Red Stove (Big Chill, $4295) provides you with 30 inches of high-impact kitchen decor.
Brighten your countertop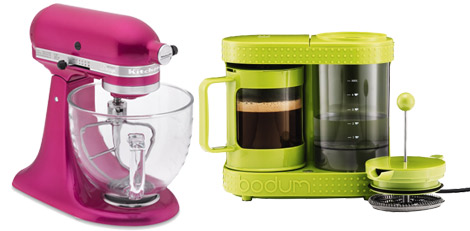 If you're unsure about forgoing the neutral appeal of stainless steel but want to add a fresh pop of color to your kitchen, consider a medium-sized countertop appliance. The sleek design of the KitchenAid Design Series Stand Mixer makes it a part of your kitchen decor, so purchasing it in a color like Raspberry Ice (Williams-Sonoma, $400) brings a burst of color to your countertop. The BISTRO, Bodum's electric coffee press, pops in Lime Green (Bodum.com, $60).
Small changes, big impact
Even a small canister of brightly colored utensils can make a difference in the look of your room. IKEA has several whimsical pieces, like the Gubbröra Rubber Spatulas, that add fun and functionality to your kitchen. Color may seem like a big commitment but can really add impact to your home design.
More about home design
Surviving a kitchen remodel
Adding a chalk wall to your kitchen
Home design blogs to inspire your decor