Posted: Nov 14, 2013 8:00 AM
Forget the store-bought flowers or cornucopia display and create a Thanksgiving centerpiece built on your family's values, words of gratitude and thanks. It's an easy DIY that everyone can help with — glue gun optional!
Gather the kids for an easy and meaningful DIY project that you'll enjoy throughout the holidays. Make your tree of gratitude as earthy or glitzy as you want with just a few items from the craft store and some bits of nature found in your own neighborhood. Block off an hour and you'll have a family keepsake that will get your loved ones focused on the simple pleasures and life-affirming treasures of the season.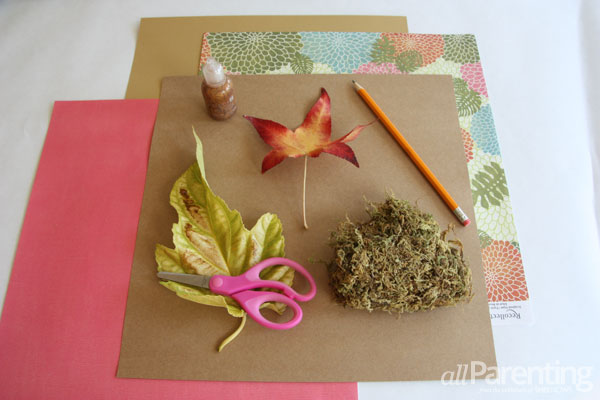 Supplies:
Vase
Scissors
Hole punch
Pencil
4-7 pieces of craft paper (colors of your choosing)
Narrow ribbon or kitchen twine
Glitter glue (optional)
Silk flowers (optional)
Moss (optional)
Bare tree branches
Fallen leaves
Acorns
Directions:
1. Take a family walk and gather bare branches, leaves in various shapes and acorns that have fallen in your neighborhood. Gather more than you think you will need, as it's easier to cut back and arrange your bounty when you get home rather than having to go back out to forage for more supplies.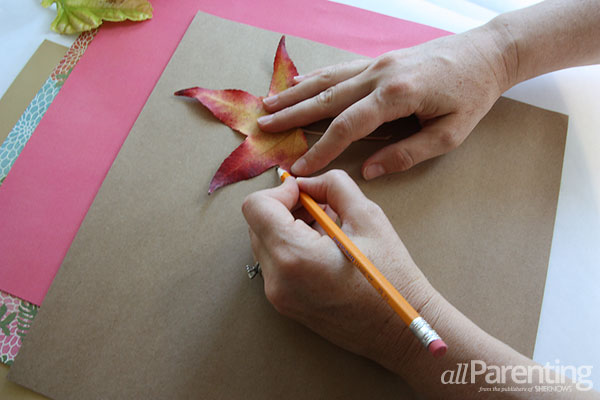 2. Start tracing leaves with a pencil on all of your decorative paper.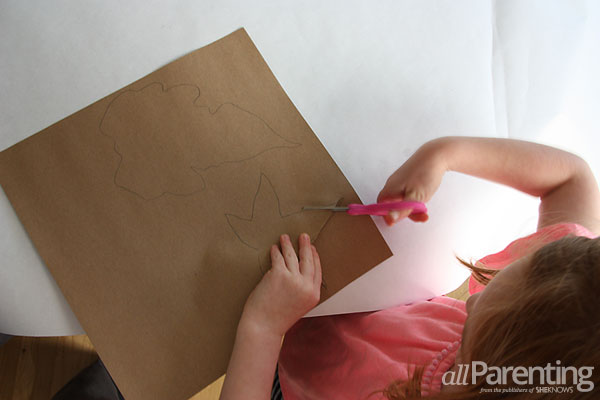 3. Cut out leaves and place one hole punch in each.
4. Tie ribbon through each hole so leaves can eventually hang like ornaments from branches. You can also decorate your leaves with a bit of glitter glue, but keep to the edges and leave plenty of room for messages.
5. Fill the bottom of your vase with a bit of moss (or rocks) and start arranging your branches. Play with the arrangement until you are happy. At this point, you can decorate your branches with additional silk flowers and acorns. Use a hot glue gun to attach bits and bobs before you start hanging your leaves.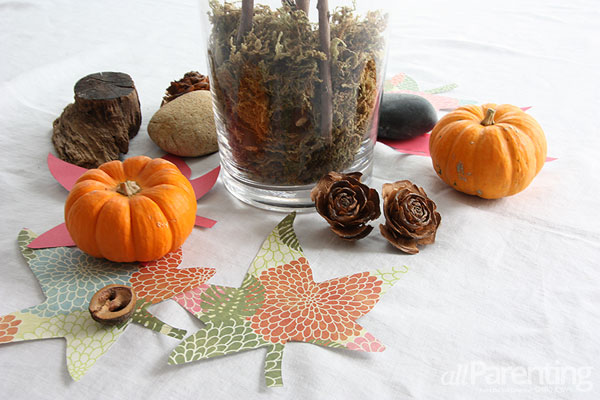 6. Spread your leaves around the vase or cluster them in a bowl with a pen or pencil. This way, family members, neighbors and friends can add messages of appreciation and good cheer to your tree throughout the season. Just before the Thanksgiving meal or during dessert make a point of reading each leaf out loud so the entire family can experience the abundance of gratitude from their own community.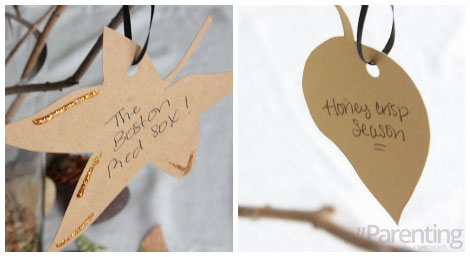 We started our tree off with a few of our favorite things like my annual anticipation of Honeycrisp apple season, my husband's appreciation for his beloved Boston Red Sox and our daughter's overwhelming delight over hot lunch at school. It's a good reminder that joy, hope and happiness can be found around every corner. What would you add to your own tree of gratitude?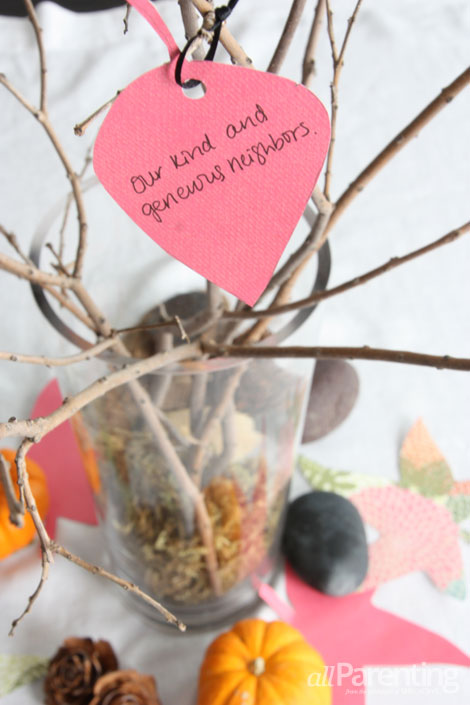 Love this? Find more crafts and DIY projects!