Posted: Jan 03, 2014 8:00 AM
Winter weather means more outerwear, and kids can forget to put away their things as they walk into the house. A few simple storage solutions can be the difference between a madhouse and a mudroom.

Choose your coat hooks
Coat hooks are a staple of any well-organized mudroom, and choosing which ones work with your family's needs is a personal preference. Organize keys, gloves and mail along with your coats when using the Hanging Shelf with Coat Hooks (Organize-It, $200). With younger children at home, hanging a few hooks at their level will help them take some responsibility for putting away their own things. Try whimsical hooks that can be easily removed as they grow into higher hooks. We love these Umbra Birdie Wall Hooks ($54).
For small entryways
If you don't have an entire mudroom, try a hall entry system. The Shutter Hall Tree packs a ton of organization power in a small furniture footprint (Home Decorators, $389). An entry system, or organizational tree, usually combines shelves, coat hooks and a small bench to get a lot of utility out of a small space. You can tuck the furniture against a foyer wall or at the bottom of a staircase, turning empty space into an organizational powerhouse.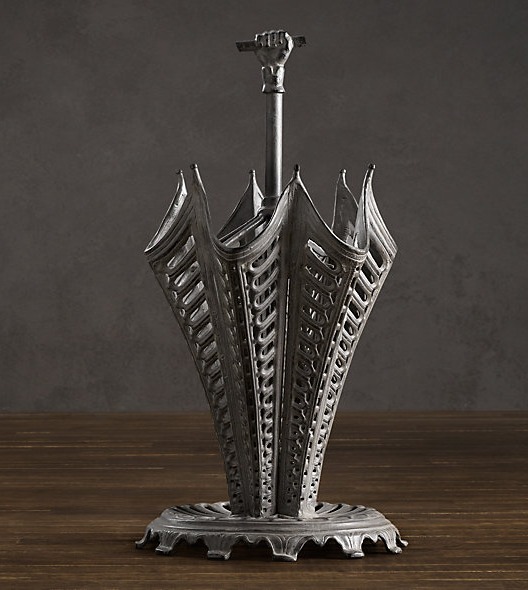 Let your umbrellas rest in style
London is known for its rainy weather, so it makes sense that this Victorian Iron Umbrella Stand design was inspired by a vintage Victorian piece (Restoration Hardware, $399). It's a definite splurge, but if you're looking for a statement piece, it's a fun conversation starter and the vented design will dry umbrellas in no time at all.

Use a boot tray for clean floors
Snow and rain can leave puddles on your mudroom floor all year if you aren't careful. The Zinc Boot Tray with Liner will keep the moisture in one place, with a texturized liner to help footwear dry in minimal time (Crate and Barrel, $40). To give your boots even more airflow while drying, line the tray with an assortment of similar sized rocks in order to keep shoes out of their own melted puddles.
Take a seat — a bench seat
The Oxford Shoe Bench stores shoes, gloves and gives people a place to sit while pulling stubborn boots on or off their feet (Home Decorators, $289). Three available finishes let you design your mudroom organization exactly the way you want. A storage bench also helps shorter children stretch to hang things on coat hooks that might otherwise be out of their reach.
Entryway lockers keep things separated
Let each member of the family have his or her space to shed their things with Entryway Lockers (Sawdust City, $194). With individual coat hooks and shelves, family members can decide what and what not to keep at the ready in the mudroom. Let kids decide on their own system. Some may choose to keep a single coat and four pairs of shoes while another one has her favorite boots and 13 cardigans. Having their favorites on hand will help everyone get out of the house more quickly.

An all-in-one solution
Let Pottery Barn take away any hassle of organizing a mudroom with their all-in-one Modular Family 8-Piece Entryway System (Pottery Barn, $1,979). The 8-piece organizational giant will take up some space, but it's a stylish, functional way to really keep your mudroom clutter-free.
More about organizational solutions
Organize your office in style
Tips for organizing photos
Find a place for everything