Posted: Jan 08, 2014 9:00 AM
While it's hard to pull our eyes away from Olivia Pope, the star of TV's hit show
Scandal
, it's also hard not to notice her cozy, serene apartment among the chaos of her life and job as a "fixer." Here's how to get the look for your own home... minus the hidden CIA cameras, that is.
Start with the big stuff
Olivia Pope doesn't mess around when it comes to furniture. If you look closely, you'll see classic shapes with updated touches on her couch, coffee table, bookshelf and dining room table, all which are easy to replicate in your own home!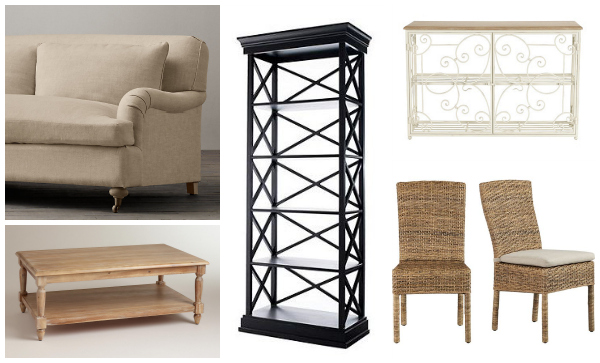 Nearly an identical match, Restoration Hardware's Belgian Classic Roll Arm Upholstered Sofa ($1,700 and up) is a gorgeous design base for any living room. Stick with a soft, light, neutral color to keep in line with Olivia's style.
Adding a bit of glam to the space is Olivia's faux-bronzed coffee table. It is over-sized, makes a huge statement and has curves and Old World charm that feels romantic. Try the Everett Coffee Table (Cost Plus World Market, $260) for a similar look.
Is that pretty console table in the back of the living room catching your eye? Ours too! To get a similar look in your home, the D'Aurey Console (Ballard Designs, $380), which is also available in rust, will be a perfect fit.
We can't even imagine Olivia Pope sitting down to eat a meal before needing to jump up and get to the next presidential crisis, but, from the looks of her pretty dining room, it does happen on occasion! Take note of the natural fabrics that Olivia has used in the side chairs, just like in these Tigris Side Chairs (Crate & Barrel, $149 each).
Check out the Bourdonnais Bookcase (Ballard Designs, $700), which is a close match to the one that Olivia Pope uses in her home to keep her books and accessories organized.
Fill the walls
Looks to us as if Olivia Pope doesn't just have a keen eye for solving the insane mysteries (of sorts!) that cross her desk, but she has a knack for picking great art as well!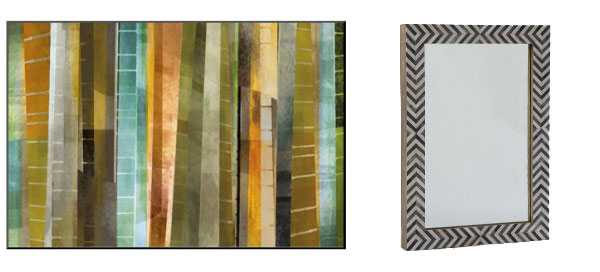 The graphic art in the living room is a focal piece of the entire apartment, adding to the softness of the furniture. Available via Target for Art.com, the New Refractions print ($124) also adds a pop of color to the otherwise neutral palette in Olivia Pope's home.
Likely the most unexpected piece in the home is the bold mirror hanging behind the dining room table. Use this as a chance to make a statement and break the mostly feminine scheme with something that's a bit more masculine, like the Parsons Wall Mirror in Gray Herringbone (West Elm, $299).
Layer on the little touches
And last, but not least, the fun part.... accessorizing! Grab a few of these pieces to truly give your home that Olivia Pope look. If you're a fan of her apartment, it's likely that you already have some similar pieces that you can make work!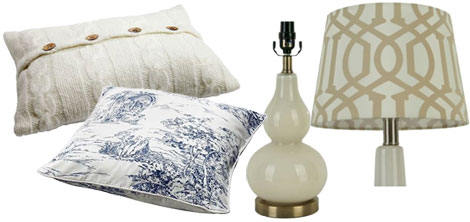 Once you have your pretty, Olivia-esque couch in place, you need some soft, over-sized pillows to complete this cozy look. Try the Annbritt Cushions ($13 each) and the Emmie Land Cushions ($5 each), both available at Ikea.
The table lamps in Olivia's apartment can't be missed when you are layering accessories. As a good option at a great price-point, try the Threshold Double Gourd Lamp Base (Target, $37) with a pretty lampshade like the Threshold Trellis Print Lamp Shade (Target, $15-25) to top it off.
More on home decor
My favorite home decor blogs
8 Awesome Etsy shops for home decor
Learn how to knit home decor
Apartment image ©(ABC/Danny Feld)