Posted: Feb 18, 2014 8:00 AM
While we'll happily pass on all of the drama that seems to take place in the Hamptons, thanks to the scandalous plot of one of our favorite TV shows,
Revenge
, we'd gladly take Emily Thorne's stylish beach cottage any day of the week! Use these key pieces of furniture and accessories to get the same look for your own home.
Furniture finds
We can't really imagine letting our sandy, sunscreened kids flop down on Emily Thorne's pretty, soft, light-colored furniture, but a mom can dream, can't she? Get inspired with furniture that has that shabby-chic beachy look, using traditional pieces in gently worn finishes to create the look of this Hamptons beach house.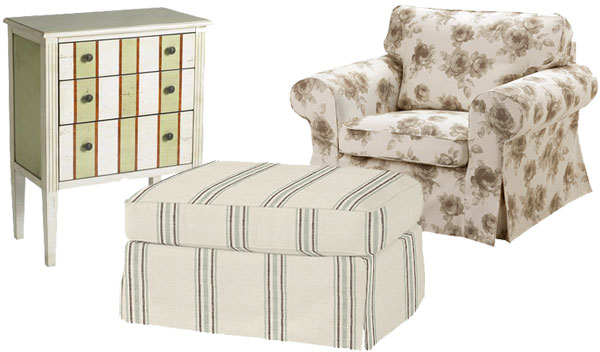 Start with a statement piece in the room to lead your design. Similar to the chairs that Emily has in her own living room (although, we're guessing at a fraction of the price!) are the EKTORP Chairs (Ikea, $349). Available in various covers (pictured in Norlida white/beige), the soft pillow-back is perfect for curling up to catch the morning sunrise with a cup of tea.
To be used as extra seating when guests are visiting or just to kick your flip-flopped feet up on at the end of a long day building sandcastles, an ottoman adds to the function and design of your room. Check out the selection at Ballard Designs where you can customize a Baldwin Upholstered Ottoman (starting at $429) in the fabric of your dreams... or of Emily Thorne's perhaps! We thought their Savant Striped Spa & Chocolate Spa (pictured) was a nice complement to what Emily has in her living room.
Peeking out from the corner of the room, but hardly going unnoticed, is Emily's TV stand. We love that she chose a piece that's a bit nontraditional to keep her TV up and the Raie Chest (Pier One, $230) would be a lovely match. It's a nice pop of color against an otherwise neutral room and the closed front lets you hide cords and remote controls easily. However, this begs us to consider... when does Emily Thorne ever watch TV and, for that matter, what does she watch?
Combine Emily's beach cottage with this cozy TV home for an elegant, yet relaxed look... Get the look: Olivia Pope's Scandal apartment >>
A touch of city glam
While most of Emily's home seems to be a far cry from New York City, where most summer Hampton-dwellers live in the off-season, you can see touches of glam that remind us that she is, in fact, a city girl too. Add a few modern pieces to your home to get the same look. Best of all, you can add some glam using smaller accessories, making it easy on your not-so-city budget.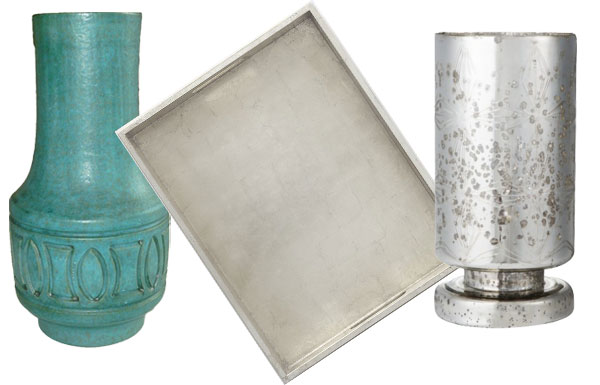 Maybe Emily picked it up when she was traveling the world, planning her revenge plot, but you can grab a pretty vase, like the one on her back shelf, on Etsy. Pick one that suits your room perfectly, but this vintage vase certainly caught our eye (via Etsy seller Amy's Delicious Vintage, $72) as a good match to Emily's. This is a piece that you could easily choose to splurge or save on, depending on your budget.
Available in multiple sizes to create a layered look, the Threshold Etched Mercury Glass Candle Holders (Target, $15) add a bit of glam and sparkle to your room, as well as warmth when the sun goes down and your beachfront living room is only lit by the glow of the summer moon... or something like that, right?
Use this Small Rectangle Lacquer Tray, pictured in Silver Lacquered Wood, (West Elm, $44) to add a final modern touch, a la Emily Thorne to your living room accessories. While Emily may use it as a place to rest her handgun in between unexpected violent visitors to her beach house, you can simply use it to keep your coffee table organized.
A few more tips to get the look of Emily Thorne's beach cottage from Revenge:
Add a few kitschy beach-themed accessories to truly get that beach home look, but remember that a little goes a long way... especially when it comes to seashells and miniature lighthouses.
Using natural fibers, such as a sea grass woven rug or burlap covered pillows, is another way to bring a bit of the beach indoors.
Let the light shine in, keeping window coverings light and airy, just as Emily has in her living room. You don't want much coming between you and that gorgeous beach view, right?
More on TV
The hottest TV shows of winter 2014
Educational TV programs for kids
The best TV shows you missed this year
Photo of Revenge set courtesy of ABC/Vivian Zink