Posted: May 09, 2014 6:00 AM
Who doesn't love to dress up their door with decorations each holiday, especially with red, white and blue decorations that you can leave hanging for at least three months' time? From ornament wreaths to ribbon wreaths, explore some of our favorite Etsy patriotic wreaths to adorn your door.
Photo credit: Craig McCausland/ iStock/360/ Getty Images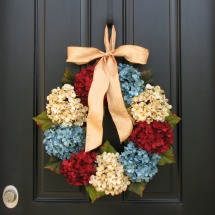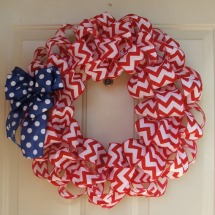 This patriotic wreath gives a subtle nod to summer holidays without overdoing the red, white and blue. Featuring silk hydrangea flowers, grapevine and ribbon, the vintage-style door adornment is the perfect addition to your entryway.
The chevron zig zag trend shows no sign of slowing down, so it's only fitting that the popular pattern is given a patriotic twist. Fashioned from red and white chevron ribbon and blue and white polka dot ribbon, this patriotic ribbon wreath adds a bright splash of color to your door decoration.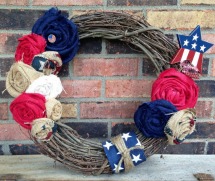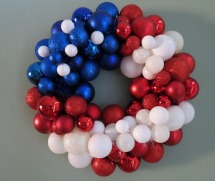 Burlap wreaths are another door decoration trend that is as hot as the summer is long, and with this burlap patriotic wreath's grapevine base, red, white and blue burlap flowers and stars and stripes details, it's a charming way to welcome guests who share the same love of the good ol' USA.
When it comes to showing your pride for the red, white and blue, this shiny and textured patriotic-hued ornament wreath sends a salute-worthy statement. Made of shatter-proof ornaments and measuring 16 inches, you can adorn your door from Memorial Day through Patriot Day or all year long without worry of wear.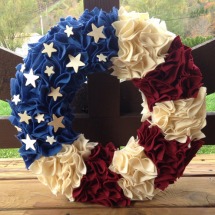 Handmade felt ruffles in a patriotic pattern make this American Flag-themed felt wreath the perfect addition to your red, white and blue decorations both inside and out of your abode. The antique hues give it a country feel while the embellished stars make it perfect for any style of decor, but the back is wrapped in ribbon so it will look finished even when seen through a window or glass door.
Almost resembling a patriotic fireworks display, the burst of red, white and blue berry-speckled grapevines back an American flag-themed barn star to give your door a USA-loving look. The wispy twig wreath is hung by a wire and measures about 17 inches in diameter to make the perfect addition to your summer decor.
Find more door wreaths
Summer wreaths from Etsy
Etsy fall wreath roundup
DIY paper wreath