Posted: Jul 18, 2014 8:00 AM
Changing home decor accessories makes your rooms feel completely different. This summer, bring a vacation vibe into your house with beach house decor.
Start with a neutral color scheme

Changing accessories by season — or whim — works best in rooms with neutral colors on the walls and floors. Coastal colors typically lean toward cooler neutrals like pale gray and the ever-popular "greige" shades that meld gray and taupe together for a warmer, versatile gray.
Benjamin Moore counts Revere Pewter as one of its most requested paint colors, and the color would be a perfect chameleon backdrop for home accessory shake-ups.
A new rug is a perfect base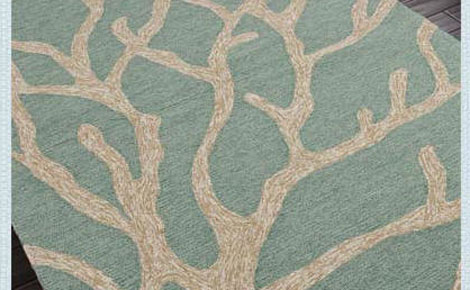 Summer weather means countless trips in and out of the house for many families. Trade out your plush, warm winter rugs for an indoor-outdoor rug that will be easier to clean. If your great room is already carpeted, a rug on top of the carpet can help ground a furniture grouping or protect light-colored carpeting. The Coastal Living Coral Rug combines a coral pattern with a dusty green in a hand-hooked material designed for high traffic and outdoor living space (Seaside Inspired, from $40).
Find your accessories in the sea

Sea glass is beautiful and nostalgic, so accessories inspired by sea glass are lovely additions to your home decor. Even if you only bring out these Waterscape Vases during the summer months, they'll never go out of style (West Elm, $24 - $44). The Believe Sand Dollar Ornament is a sweet touch on a doorknob, welcoming guests with a touch of the sea (Fanta Sea, $16).
Add pops of color and whimsy

Accessories are a fun way to add color to your neutral scheme. Beach houses are rife with pale blues and greens, but pops of color in coral or Nantucket red are bright ways to add some whimsy to your room. The Mod Link Linen Pillow boasts a cheerful mango pattern reminiscent of life preservers — perfect for a beach house (Cottage and Bungalow, $95). If your beach decor is seasonal, you might not want to commit to wall hangings. Leaning decorative letters against books on a bookcase or on the mantel will add color without the permanence of nail holes — the Sea Word letters can be personalized by choosing your favorite colors (Cottage and Bungalow, $105).
Keep your summer activities in mind

If entertaining is your favorite part of summer, add a kitchen accessory in sea green for summer fun. The Vintage Hamilton Classic Drink Master can make milkshakes and fruity drinks for sweltering summer days (Etsy, $35). After the kids go to bed, try it on our Tipsy Tagalong Boozy Milkshake. Families who love the water, whether it comes in the form of a lake, a pool or the utilitarian sprinkler, need somewhere to hang their towels. The mint green Towel Holder can be used in a bathroom after summer ends (Etsy, $27).
More about home decorating
Design a dream room for tweens
Use inspirational quotes as home decor
How to incorporate reclaimed wood in your home