Posted: Sep 18, 2014 8:00 AM
Dig out those boring drink trays, stock up on a bit of paint in your favorite colors and grab your brushes to make this pretty serving tray.
When you have an ugly serving tray that you've pushed to the back of the cabinet because you just can't bring yourself to use it, it's time to take it out, dust it off and give it a whole new life.
In an afternoon, I took my tray from a yellow that required sunglasses to look at to a soothing minty blue color that is calming and matches my current decor. This project requires very little skill. If you can handle a paintbrush, you can easily do this DIY.
I had so much fun with this project and the end result made me so happy that I'll be scouring the clearance aisles at my local stores for more trays to customize. I'll either hoard the trays for myself or use them as gifts. How fun would it be to top a newly-painted serving tray with little goodies and give it as a housewarming gift?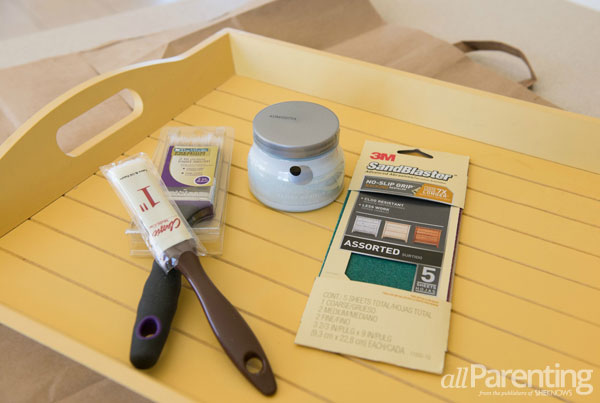 Supplies:
1 old wood serving tray, the uglier the better
Paintbrush (I used a larger one for covering the surface quickly and a smaller one for getting into the smaller spots.)
Water-based paint in the color (or colors) of your choice (I used Devine paint from Target in Horizon.)
Fine grit sanding paper
Lint-free cloth or tack cloth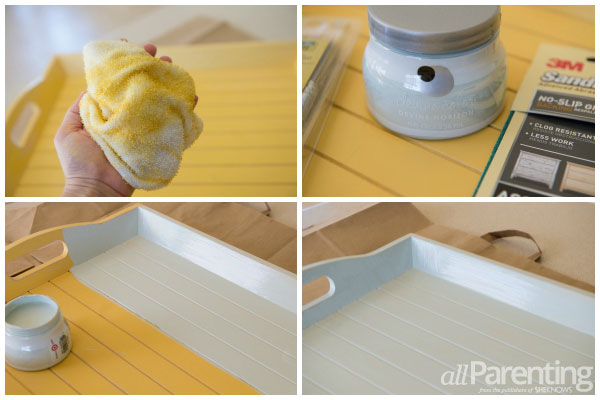 Directions:
Protect your work surface. (I used paper grocery bags, cut open and laid flat.)
Using a piece of fine grit sandpaper, gently sand the entire tray to create a smooth, uniform surface to help the new paint adhere nicely.
Wipe tray down with a slightly-damp, clean cloth to remove all dust from the sanding process.
Allow the tray to dry and go back over with a clean, damp cloth once more if necessary.
Once the tray is thoroughly dry, use your paintbrush to apply a uniform coat of paint to the surface of the tray.
Allow to dry completely.
Flip tray over and paint remaining unpainted surface.
Allow to dry completely and repeat the process, giving the entire tray a second coat of paint.
Allow to dry completely.
Apply a third coat if necessary for even, complete coverage.
Once completely dry and no longer at all tacky, put your new tray to good use.
Love this? Find more crafts and DIY projects!