Posted: Aug 08, 2014 8:00 AM
Organizing toys and craft supplies seems like a constant battle in many homes. Real moms share their favorite must-have organizational systems and secret tips for keeping their homes neat.
Photo credit: MaryLea at Pink and Green Mama
Cubes, cubbies and bins are storage giants
Scoping out Pinterest boards and chatting with moms online and in real life might be an unscientific study about toy storage, but cube systems are an overwhelming favorite. Much of the beauty in cubes, cubbies and storage bins seems to be that the systems blend with a variety of decor and can be made to look a little more decorative by using natural-material baskets or canvas bins that blend in with the rest of a room's decor.
Determine a place for every toy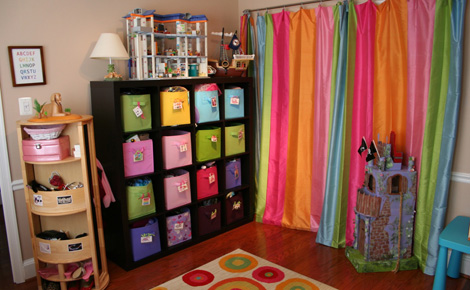 Photo credit: MaryLea at Pink and Green Mama
MaryLea from Pink and Green Mama has toy — and all kid things — organization down to a beautifully neat science. Since finding her Kid-Friendly Spaces and Toy Storage Solutions, I've referenced the post several times, dreaming of how to translate her system to our home. Instead of trying to shuffle her kids' things into a single organizational system, she's worked to make her system functional for her kids without sacrificing neatness in her living spaces.
MaryLea says, "We have kid-friendly spaces throughout our home so the girls and their friends can access their own books, toys, music, collections and art supplies. My organization style for our playroom would be that everything has its own place or home, just like in a classroom. I've always labeled our toy bins with photos so kids, friends and babysitters know how to clean up quickly." Follow Pink and Green Mama on Facebook for more gorgeous, practical tips for kid-friendly living.
Rotate toys between rooms or long-term storage
Another way to keep toys and books at bay is to put your kids' things on a rotation system. Rotating toys keeps kids interested in what's currently in the rotation, because they aren't overwhelmed by their choices. Moms can decide which type of rotation will work best with their kids — and their home.
Rotate toys between rooms. Divide toys by the main rooms in which your kids play. Be sure the playroom toys stay in the playroom, the living room books in the living room and the designated toys stay in the bedrooms. Once a month or once every few months, switch the toys and books into different rooms, in different combinations. Simply moving things around the house will make the toys seem new, and kids will be more likely to play with a toy instead of just dumping bins onto the floor.

Rotate toys seasonally. Divide toys and books into current and long-term storage, keeping the long-term storage items in large, waterproof containers in basements, attics or storage closets. Switch out toys and books at the beginning of a new season, which will cut down on the overall amount of clutter in your living areas.

Operate on a one-in, one-out system. During holiday season, birthdays or other times kids receive new items, have them choose items from their old toys to donate to a charitable organization or to hand down to younger cousins or family friends. The first time kids have to donate, they may resist, but making the one-in, one-out system a habit will pay off in the long run by helping kids take responsibility for their own toys.
Tweak toy storage to fit with your decor
Choosing practical storage for toys and books doesn't have to mean sacrificing your personal design style. Pamela from PB & J Stories planned on throwing out a cube bookshelf until she realized she could customize it to fit her living room decor, while providing storage for toys, games and books. Her Beautiful Mess — Easy Upcycled Toy Organizer shows how a bit of tweaking can mean the difference between toy storage and a custom piece of furniture that fits naturally into your design scheme.
Photo credit: PB&J Stories
The bottom line about staying organized
Keeping toys and clutter contained isn't simply a mom's job. Work with your kids to help them get comfortable with your organizational system, and let them know your expectations about their role in keeping their spaces neat and organized. Breaking down their responsibilities into manageable pieces — all the blocks in their basket before a bedtime story — will help them take ownership of their space.
More about organizing at home
Tips for an organized pantry
How to organize your makeup
Organize your home office in style