Posted: Sep 26, 2014 8:00 AM
Pinterest-addicted moms will love the newest website on the block, nousDECOR. Allowing you to recreate your favorite rooms by pulling products from their never-ending gallery of stores, nousDECOR lets any mom play interior designer, with just the click of a button.
Photo credit: Fuse/Getty Images

Meet nousDECOR
If you're a mom who loves Pinterest, but who gets frustrated and often disappointed with its lack of follow through (AKA, falling in love with a lamp that came across your Pinterest account, but never actually being able to click-through to find where to buy it because it leads you down a rabbit hole of pins...), you're going to fall in love with this new website. Meet nousDECOR (pronounced like new-decor). Created by design fanatic and website guru Heather Gillette, nousDECOR takes online inspiration for your home up a notch... a very big notch.
On nousDECOR, not only can you recreate your favorite rooms by pulling items from their online "catalog" of home decor items (couches, accessories, lighting, rugs — anything you can think of for your home), creating gorgeous, inspired, useful "moodboards," but you can also click through to the store that carries each item and purchase it. No more dead-end Pinterest rabbit holes. No more swooning over that piece that you found on a blog, but never being able to hunt down its source. nousDECOR puts an end to all of that, while helping you create well-designed spaces for your home via their easy-to-use website.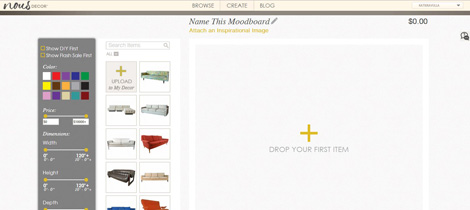 Photo credit: nousDECOR
How to get started
Once you've registered on nousDECOR (you can use your Facebook account, if you prefer), you can get started right away. There are three tabs at the top of the page that you'll want to explore: Browse, create and blog. Here's how they work:
Browse: Under this tab, you can see the moodboards that other nousDECOR users have created to inspire their own homes, which may help to inspire you. If you click on the "Featured" tab, you can explore a moodboard in detail, even swapping out furniture for different price points or colors from the huge selection of brands and stores in the nousDECOR catalog. This is also the tab where you can find the moodboards you've created yourself, where you can upload or search for inspirational images to recreate moodboards with (browse by room at the bottom of the page) and where the "Seeking Help" section lives (more on that below).
Create: This is the tab that you'll use to start making the design magic happen. Start by uploading an inspirational image — you can use images you've found anywhere online, including websites, blogs, online magazines or retailers. (Don't forget to add credits so that you will remember and others can discover where the original image came from!) Next, start pulling pieces from the nousDECOR catalog to recreate your inspiration room. You can browse by furniture piece, for example, couches, then narrow your search down by color and price. Or, upload products that you already have saved on your computer as favorites, using the "Upload to My Decor" button. One of our favorite features about nousDECOR is that as you add pieces to your moodboard, it keeps a running total, letting you know how much it will cost to actually create this room or the impact on your budget by switching out that swoon-worthy high-end couch with one that is less expensive.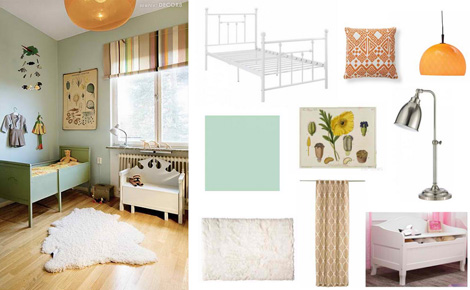 Photo credit: nousDECOR
Talented designers at your fingertips
One of the best and most valuable pieces of nousDECOR is the access to the professional interior design team. With chief designer Mark Culter leading the way, you can create a moodboard and post a question to the design team, as well as to the nousDECOR community for help. Looking for the perfect rug to match the couch you just bought? Post it and see what they come up with. On the hunt for design elements to complete your master bedroom? Upload a picture of what you're already working with and get almost immediate feedback. The community aspect and interactive features between the nousDECOR team and its users takes this website to an entirely new level.
Find them
For all things nousDECOR, make sure you follow them online:
More on home decor
Accessorize your home with beach decor
Inspired outdoor living rooms
Get the look: The homes of Modern Family