Posted: Mar 28, 2012 12:20 PM
You may have heard of the "caveman diet" -- eating the foods that were available to our early ancestors, such as meat, vegetables and fruits, and avoiding grains, dairy and processed modern foods. What's the buzz on the paleo diet, and how is it good for you?
Based on the foods that our very early ancestors are presumed to have eaten, the paleo diet is one that has gained some popularity over the last few years. Praised by those with various food intolerances and autoimmune diseases as well as those who are vested in it for good health, it's an easy diet to go by, as long as you love meat, vegetables and fruits.
The basics
You should avoid most modern processed foods and dairy — for example, no Hamburger Helper, no mac and cheese, no ramen, no bread, no gluten, no ice cream, no salt, no legumes and no Easter candy, among other things. But the good news is, if you like meat, vegetables and fruits, you will love the paleo diet.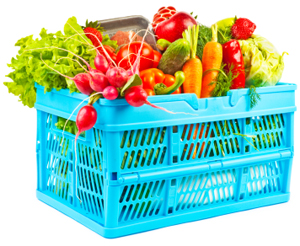 Invest in a slow cooker if you haven't already. Meat and vegetables are very easy to prepare in one and can eliminate the dinner-time crunch that normally leaves you scrambling in your pantry (or out to eat). Fortunately, paleo websites are springing up all over the web, chock full of recipes and guidance, which can help with meal planning.
Reasons why
Some, like Maggie, mom of two, have started the paleo diet due to health issues. "My doctor has recommended it for my lupus," she told us. And still others find it an easy solution for those who already have dietary restrictions. "Since my son has celiac disease and can't have gluten, it's just as easy to keep other grains out of our diet as well," said Melinda from Missouri. "I also find the kids are better behaved when they are full on protein instead of carbohydrates."
Others just find it an easy step to take when considering other weight-loss efforts. "It just made sense to me," Kelly from Rhode Island shared. "And my weight proves that. If I want to lose, I lay off the dairy and kick up the exercise. Very easy to follow."
Take it easy
If you decide to go paleo, take it easy. You may be addicted to carbs and not know it, and carb detox can be pretty uncomfortable, so feel free to lower your intake gradually if you can't go cold turkey. It can pay off in the long run if you can get over the initial hump and eat what your body is designed to digest.
More about your health
Nature's best antibiotics
Is alternative healing a sham?
What to expect from acupuncture