Posted: Aug 30, 2012 10:00 AM
You may have heard the old saying, "Moms don't get sick days." Well, it's definitely true. Here are a few tips to get through an illness of your own while you have a home and a family to care for.
You wake up with a scratchy throat or a stuffed-up head. Even worse, you may feel nauseated or have diarrhea. What do you do? You still have a baby to entertain, a lunch to pack, kids to run to school, dinner to prepare and laundry to tackle. We've got some ideas for you to make it through your illness -- read on.
Decide the basics
If you can't get up and around, make a mental note about what you must do today and what can be saved for later. Breastfeeding the baby can't wait, but his well-check can be rescheduled for another day. Fortunately, if you are nursing, it's OK to continue while you are sick (and recommended), as you will pass your antibodies on to your little one.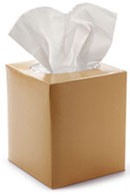 Create a sick bed
Create a haven in your bedroom with any tools you need to get through the day: your phone, giant jug of water, laptop and remote control. If you have a baby, surround yourself with diapers, wipes, burp rags, toys, Elmo and blankies.
Forget cleaning
Unless there is a toxic spill in your home, forget cleaning. Your rest is more important than a clean floor or tidy kitchen. That pile of laundry calling your name? It will still be waiting for you when you're all better. It will likely have grown, but unless your family members are totally down to their last pair of underwear (and no one else is able to do it) you can just let it sit.
Ask for (and accept) reinforcements
Don't be afraid to ask for help! Grandma may just be dying for a chance to hang out with your kids, spoiling them while you get some much-needed rest. Enlist your significant other as well -- have him pick up dinner on the way home.
Take care of #1
It's so important to take care of yourself so you can continue taking care of others. If you push too hard to keep up your regular pace, you can prolong your illness or get even worse. Moms need to be taken care of too.
More about your health
Nature's best antibiotics
Understanding HPV
Is alternative healing a sham?