Posted: Mar 30, 2012 1:23 PM
Get the skinny on alternative medicine and therapies. Find out what works, what doesn't and what research is on the fence about. You may end up finding a new treatment that takes you outside your comfort zone with great results.
Everyone wants to be healthy. When faced with pain and disease, most people are willing to try almost anything to feel better. Alternative medicine offers therapies that have been proven to work, but there are also therapies out there with no researched effectiveness. If you approach alternative medicine with an open mind and you aren't expecting miracles, it's possible to get real results.
Massage
You may think of massage as a pure indulgence, but it's also prescribed as a way to relieve pain and symptoms from a variety of health issues including headaches, anxiety and incontinence. With a referral from your doctor, most health insurance companies will cover massage therapy. When you make a massage appointment, ensure that your therapist is properly licensed. Massage therapists may work with hospitals, sports medicine clinics, relaxation clinics or in private practice.
Meditation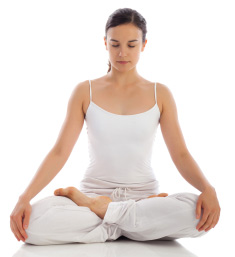 Meditation is recognized by the The National Center for Complementary and Alternative Medicine as an effective therapy. Despite being something that most adults can perform alone, many people ignore meditation as a useful therapy. Meditation requires only time, a quiet place and practice. Check out a book on meditation at the library or search for free videos online for basic instructions and guidance. Talk to your doctor if you decide to try using meditation as a way to relieve stress, anxiety or depression.
Chinese Herbology
Herbology is a type of traditional Chinese medicine. Practitioners are certified through The National Certification Commission for Acupuncture and Oriental Medicine (NCCAOM). This type of complementary medicine involves a lengthy initial visit, during which a certified practitioner will ask you many questions about your health, activity, diet and any medications you're taking. Based on the results of this visit, along with an evaluation of your tongue and pulse, the herbalist may advise you take specific formulas of herbs. Avoid Chinese herbology when pregnant and nursing, and always let your healthcare provider know that you're trying herbology as a therapy for your symptoms.
Aromatherapy
Aromatherapy is the use of essential oils in the air and on the body to relieve a variety of symptoms. While many bath and beauty products claim to use aromatherapy, you shouldn't expect results unless you're working with a practitioner who has trained in a program approved by The National Association For Holistic Aromatherapy or the Alliance of International Aromatherapists. More and more conventional medical doctors are discovering the benefits of aromatherapy. In fact, The National Cancer Institute recently published a study on using aromatherapy and essential oils with cancer patients.
What to Avoid
Be cautious when a therapy is advertised to have instant results. If it seems too good to be true, it probably is.
"
"
Be cautious when a therapy is advertised to have instant results. If it seems too good to be true, it probably is. Watch out for therapies that are very expensive or require questionable machinery or tools. Always let your doctor know you're trying a form of alternative medicine. Remember, any form of medicine requires effort on your part. Invest in your health by eating right and getting regular physical activity.
More about your health
Nature's best antibiotics
Understanding HPV
What to expect from acupuncture