Posted: Apr 09, 2012 3:16 PM
When I was recently diagnosed with anxiety, my doctor gave me a sample of a new anti-anxiety medication that had less than desirable and downright scary side effects. I didn't write it off completely, but I was desperate to find another way to get better.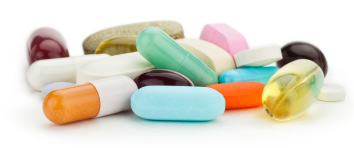 The pain in my heart and down the entire left side of my body had been getting worse, and I was starting to wonder if these anxiety attacks I was having due to stress at work and home was actually a heart attack. I scheduled an appointment to discuss my symptoms with a doctor and was given a sample of medication to try for 30 days. I immediately called a friend who was studying naturopathic medicine. Many years ago my oldest son was diagnosed with epilepsy, and we experienced the trauma of his health declining rapidly after the introduction of a few medications. We found a doctor who prescribed the Ketogenic Diet, and he was seizure-free within days. Naturally, we now prefer to try any alternative to medication when possible. Simple changes in diet and lifestyle can make the greatest difference.
Eat according to your blood type
Now, I'm no doctor nor am I a nutritionist in any way, but there are people out there — even books — that swear by the blood type diet. I'm O+ and had been eating a mostly vegetarian diet. Apparently, I should be eating the complete opposite. I added in red meat and high fats and noticed a drastic decrease in my anxiety. I also found that eliminating gluten wherever possible and taking daily vitamins helped as well. You can do some googling or discuss your blood type and diet with your doctor.
Exercise your mind and body
It's no secret that exercise is healing to the body and mind. It increases energy and natural endorphins that keep you feeling good. Reading or taking up a hobby that gives your mind a rest but still a little workout can do wonders as well.
Sleep tight
It was almost a guarantee that if I didn't get enough sleep, I'd pay for it in anxiety the next couple days. It's especially hard as a busy parent to juggle work and family and not borrow an hour or two from your bedtime. But sleep is a necessary prescription that you should not miss. Find a way to get to bed a little earlier each night. Soon your body will adjust and crave it. Those other things that need to get done always tend to work themselves out in the end. Make sleep a big priority.
Anxiety is scary and not to be taken lightly.
"
"
Anxiety is scary and not to be taken lightly. Diagnosis and treatment, natural or not, should be discussed with your healthcare provider, and, above all, seek help as soon as you can.
More about your health
Nature's best antibiotics
Is alternative healing a sham?
What to expect from acupuncture