Posted: Jun 04, 2012 12:00 PM
Why do we love celebrity mom Reese Witherspoon? Let us count the ways! This hands-on mom of two had us at
Legally Blonde
and
Sweet Home Alabama
-- and proved she had real acting chops when she took home the Oscar for playing June Carter in
Walk the Line
.
She and her ex-husband Ryan Phillippe managed to keep their divorce relatively civilized -- and have gone on to co-parent their kids drama-free. With a new husband (Jim Toth) and a new baby on the way, there is no wonder that Reese Witherspoon is our celebrity mom crush.
Mom to...
Reese Witherspoon has two children, Deacon, 8, and Ava, 12, with ex-husband Ryan Phillippe and is currently pregnant with her first child with her new husband, Jim Toth.
Why we love her
Reese Witherspoon is America's Sweetheart for her perky personality, Southern charm, obvious love for her children -- and can we mention her amazing hair that has the perfect buttery highlights? Born in Tennessee, the 37-year-old actually landed her first acting role when she was just 14 years old in The Man in the Moon. She met her first husband, actor Ryan Phillippe, on the set of Cruel Intentions and married him when she was 21 years old.
She divorced Phillippe after seven years of marriage, but has handled it all with grace and poise.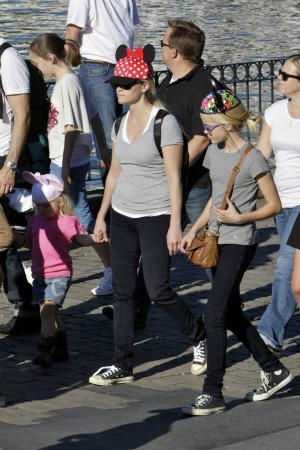 "My ex-husband is very involved in raising our beautiful children. We're very lucky because we both grew up in working families in middle America. We're on the same page that way," she said in an interview. "When we're with our children, we're very good about checking ourselves. I'm teaching the children what we were taught growing up -- a real set of rules, discipline and love."
After marrying Jim Toth last year, Reese helped her kids bond with their new step-dad by taking the kids with them on their honeymoon in Belize!
Her mom style
Reese Witherspoon always manages to look effortless chic and polished by mixing cool basics with trendy essentials. She and her daughter Ava are often spotted wearing similar outfits, including flowing belted sundresses with sandals or cuffed boyfriend jeans paired with a solid top and colorful sandals.
Reese isn't afraid to have a little fun with her kids! She was recently spotted at Disneyland and she and Ava had on the exact same outfit (black jeans, gray T-shirt, Converse shoes) and to top it off they both wore Mickey Mouse ears!
Since she has been pregnant, she looks chic and cool in bump-hugging Isabella Oliver wrap tops paired with jeans, as well as chic sundresses and boots. She dazzled us at the Cannes Film Festival in a gorgeous blue gown that showed off her new pregnancy curves.
Our favorite Reese quotes

"There's always going to be somebody younger or sexier. That's why I like to say, and it's become my famous line, 'Funny doesn't sag.'"
"I am so blessed to have my family here tonight... It didn't matter if I was making my bed or making a movie. They never hesitated to say how proud they were of me. And that means so very much to a child. So thank you, Mom and Dad." -- Oscar speech
"I get it girls... it's cool to be a bad girl, but it is possible to make it in Hollywood without doing a reality show. When I came up in this business, if you made a sex tape, you were embarrassed and you hid it under your bed. And if you took naked pictures of yourself on your cell phone, you hide your face, people! Hide your face!" -- 2011 MTV Movie Awards
We were surprised to learn that...
Reese has a (rather large) tattoo under her bellybutton on the left side of her abdominals that is of a star surrounded by two birds.
What's next for Reese
A new husband, a new baby (due late August or early September), as well as several movies in the works, including Mud with Matthew McConaughey. We say the sky is the limit for Reese Witherspoon!
More celebrity moms
Hilary Duff lends a hand
Dress like a celebrity mom
Pregnant celebrities: Copy their style