Posted: Jul 03, 2012 9:00 AM
Since Facebook purchased the super hip, picture-taking app, Instagram, it seems like everyone is going crazy for this new way to capture the priceless moments in life and especially of their kids! But, now that you have an entire phone full of Instagram shots, what do you do with them?

For your walls
There's something about Instagram photos that makes everyone look a little bit better, don't you agree? Those filters have a magic way of making you look a little tanner, your cheeks a little rosier and your eyes a little brighter. Put this all together and you'd be a fool not to get your Instagrams printed to hang around your house! Check out the products at Printstagram -- again, they easily connect you to your Instagram account where you can pick and choose which photos to print. Make a statement with their Instagram posters ($25-$35), which can use up to 400 Instragrams.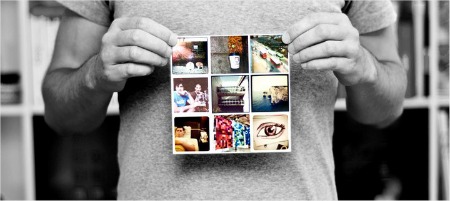 For your fridge
We realize that alphabet magnets probably take precedence on your refrigerator, but you have to admit that these Instagram magnets from Stickygram are pretty cool. Each sheet includes nine Instagram magnets ($15) and you'll be hard pressed to pick your favorites! Try creating Instagram magnets of each of your family members to keep on your fridge for the kids -- it's fun for them to have magnets of grandma and grandpa, cousins and aunties and uncles to play with while you work on dinner prep.
For your phone
What better place to put your Instagram photos than on the phone you took them with! Casetagram allows you to easily connect to your Instagram account and choose which photos you'd like on your case. Or, click the Random button and let Casetagram pick (you still get to preview and make changes before placing your order). Available for the iPhone 4/4S ($35), as well as for iPads ($55).
Tips for moms who Instagram
Put your phone in Airplane Mode to avoid having your Instagram show up in the feed. It will still be saved on your phone for you to pull up at a later date (iPhone users only). Remember this little tip when taking mommy self-portraits.
If you're taking action shots, which you are most of the time if you have kids, take the pictures with your regular phone camera, then apply them to Instagram. It's easier to take multiple quick snapshots outside of Instagram.
Make any basic photo fixes in other photo apps before importing them to Instagram. Need to crop out the fact that your 3-year-old isn't wearing pants? Do it first, then Instagram.
More on photography
Outdoor photography tips
Bring sexy back with a boudoir photo shoot
How to style your family for a professional photo session