Posted: Jul 11, 2012 7:00 AM
Balancing a career and motherhood can cause mommy guilt of epic proportions! And some of our favorite celebrity moms weigh in on how they juggle their high profile careers alongside their busy family lives.
Contributed by Celebrity Baby Scoop
Tia Mowry-Hardrict
Sister, Sister alum Tia Mowry-Hardrict says motherhood has given her a "rebirth" and a new perspective in life. The 33-year-old new mom to 1-year-old son Cree has returned for another season of her hit reality TV series, Tia & Tamera, with her twin sister Tamera Mowry-Housley. She opened up to Celebrity Baby Scoop about juggling her career and motherhood.
"It's really hard because I also believe that a woman shouldn't lose her own identity just because she's now become a mom," Tia shared. "I think women have so many facets to our personality. We are best friends, we are wives, we are mothers, we are sisters, we are daughters. And I think each role that you have in life should never be neglected. But with that said, you have to find a balance… but I don't know if you ever find that! But I also don't think you should neglect your other roles because we're multi-faceted and I think that is why women are so strong. And we're amazing, because we can be all those things!"
Heidi Klum
Newly single mom-of-four Heidi Klum opened up to Celebrity Baby Scoop about the "huge responsibility" of raising her kids -- Leni, 8, Henry, 6, Johan, 5 and Lou, 2 -- with her soon-to-be ex-husband Seal.
"It's a huge responsibility to have four kids and since they are all different, they all have different likes and dislikes and activities that they want to do," Heidi said. "You have to learn how to juggle all of that and at the same time, give them each the love that they need."
And at the end of the day, it's all about family for the gorgeous model mom.
"The time you have, you spend with your family," Heidi continued. "Your calendar becomes your guide and scheduling becomes so important to make sure it all gets done."
Brooke Burke
Dancing with the Stars host Brooke Burke kept it real in a recent interview when discussing her hectic family life with husband David Charvet and their blended family-of-six.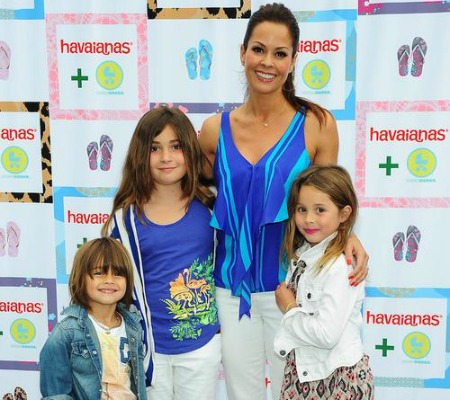 "When I was a new mom, I used to think that life was going to be balanced, and I strived for that," Brooke shared. "But life is crazy! I've got two little ones a year apart (my daughter Rain, 5, and my son, Shaya, 3) and two older daughters (Neriah, 12, and Sierra, 10) and a million things to do. I gave up on the expectation that everything was going to be picture-perfect. Balance is a joke."
>>Celebrity Baby Scoop is one of the most popular blogs on the topic and the foremost provider of everything celebrity-baby, featuring baby fashion, baby names, baby trends and up-to-the-minute celebrity baby gossip and pics. Get all the latest news, updates, and photos about Hollywood's most beloved celebrity moms, dads and their babies. Who's the latest Tinseltown baby? Who's due next and who just announced a pregnancy? It's all on Celebrity Baby Scoop.
Photos courtesy of Celebrity Baby Scoop
More top stories from Celebrity Baby Scoop
Is Katie Holmes removing Suri from Scientology?
Britney Spears and boys: Farewell in fedoras
Jennifer Garner's playground pals