Posted: Dec 28, 2012 9:00 AM
The holidays tend to inspire most people to be thankful for the blessings in their lives. But what's the key to not just being, but staying, grateful after the presents are unwrapped and the decorations are put away? It's actually much easier than you might think.
You can be 25 percent happier
With the holidays in full swing, it's a time when many of us are inspired to count our blessings. And while we all might have the best intentions to keep this up year round, it often doesn't happen. So how do we stick with it? Well, research shows that people who keep gratitude lists can increase their happiness by 25 percent, report higher levels of energy and feel closer in their personal relationships. Who wouldn't want this? And who wouldn't want this all the time?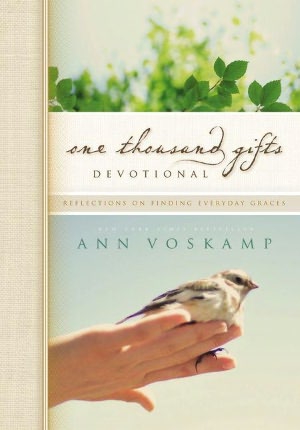 Let me count the ways...
New York Times bestselling author Ann Voskamp's One Thousand Gifts Devotional: Reflections on Finding Everyday Graces will teach you how to find real joy and experience grace in the midst of the four Ds: deadlines, debt, drama and daily duties. There are 60 devotions for you to read that will inspire you to count the graces in your own life and challenge you to come up with one thousand. Yes, one thousand.
Don't make being grateful another "to do"
If the idea of thinking of one thousand of your own personal gifts sounds overwhelming or you worry that you'll start a list but won't complete it, Ann Voskamp urges you not to add the listing of gifts to your to-do list. "Just leave a journal out on the counter and during the day just look for three simple moments that strike her as wonder. And jot those down — and you begin to wake to wonder everywhere."
It's just too easy... There's even an app
Voskamp also suggests downloading the free 1000 Gifts app which allows you to capture your gifts, count your blessings and share your joy as it happens. It even has a feature that allows you to take a picture of the moment that captivates you and post it to Twitter or Facebook. It doesn't get much easier than that!
So how do you stay grateful?
The decorations are boxed up, the lights are put away and you're due to return back to work tomorrow. And even though you love the idea, you wonder how, in the midst of the everyday work and family chaos, you will remember to count your blessings every day? "To stay present in this moment is key to staying grateful during the holidays — and after," says Voskamp. "Seeking gifts — just right here and now — shifts the focus from anxiety to gratitude and this is the way you walk through the door to joy , wherever you are."
Get inspired
Ode to a mom's best friend
5 Reasons I'm thankful for my little turkey
The love letter, reinvented