Posted: Jan 16, 2013 12:00 PM
If the word clean makes you groan, why not focus on the lean part of it instead?
The cLEAN Momma Workout
is a new book that promises to get you in shape while you vacuum, do laundry, even wait for the microwave to beep! With exercises ranging from the rag drag to the suck and squat, I was so intrigued I decided not only to try them out, but to document my attempt. Pictures really are worth a thousand words...
Moms cook, wash bottles, kiss boo boos, hold the family together. Between chores, errands and responsibility, life often gets put on the backburner. Including our jiggling thighs and ever-expanding waistlines. Sound familiar? It's the concept behind the new book, The cLEAN Momma Workout: Get Lean While You Clean. The author, Carolyn Barnes, had an epiphany (thankfully for all of us!) that exercise and housework could be combined. She calls it "taskersize." And guess what? It works. I tried several of the exercises and gave my husband quite a chuckle as he photographed me. Let's just say squatting while vacuuming just might become a new spectator sport.
The Suck "N" Squat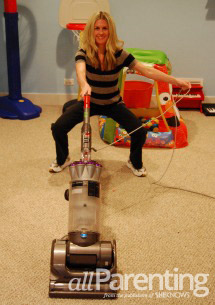 Watch out, ladies. This one is deceiving — in a good way. It might look easy, but you'll get a great workout while you clean those carpets. We have a fairly heavy vacuum so when I pushed it while simultaneously squatting, I could feel the burn in my core, glutes and thighs. #thenewburn
The Time Press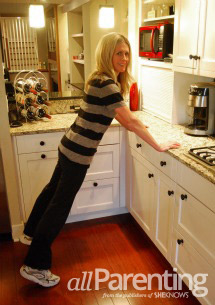 The mult-tasker in me loved this one the most. I popped in a steamer broccoli and spent the next 5 minutes doing chest presses while I waited for that beep. To think I spent so many years just watching the timer musing at how long a minute really is. #multitaskersdream
Tricep Tub Dip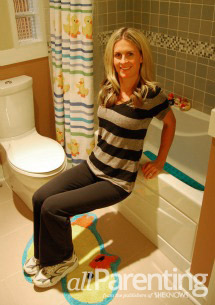 Doing tricep dips on a rubber ducky rug in between scrubbing your kids' tub is genius (not to mention funny to look at!). Clean tub, plus toned triceps, equals no brainer. #ifrubberduckiescouldtalk
The Rag Drag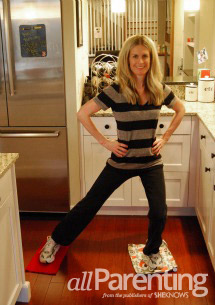 This is a great exercise that I've done in the gym (sans dish towels!). I loved being able to tone my thighs while cleaning up my toddler's mess. #nomorecryinggoverspilledmilk
More exercise tips
Banish the spare tire
Pilates, yoga or the Dailey Method?
Exercise during pregnancy