Posted: Feb 14, 2013 6:00 AM
Valentine's Day is the perfect time to walk down memory lane with your significant other. With a bunch of balloons and a few written memories from Valentine's Days past, you can do just that. Seeing your love story told in this way will take your breath away.
Surprising your loved one can be tricky, but so well worth the effort. This balloon bouquet is a fun, creative and romantic addition to your Valentine's Day gift ideas and a perfect way to celebrate Valentine's Day, your marriage and your story.
What you'll need
Balloons

— Consider choosing a meaningful number of helium-filled balloons. Perhaps 14 for Valentine's Day, the number of Valentine's Days you've spent together or seven for each day of the week.

Paper — For a floating bouquet use lightweight paper such as printer paper and for an anchored bouquet choose construction or scrapbooking paper. My printer paper is cut to 4 x 4-inches.

Stories — You'll be filling each paper with one Valentine's Day memory.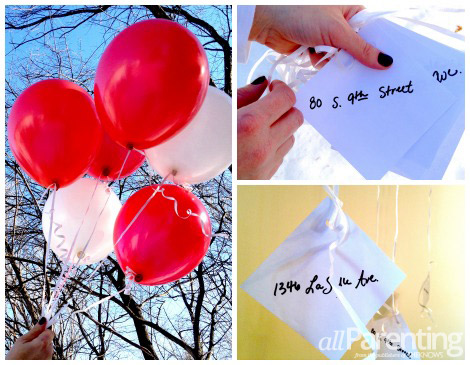 What you'll write
Places — Revisit where you've celebrated Valentine's Day through the years.
Memories

— Fill your pages with memorable Valentine's Day stories like those lost reservations, that time you got stuck in the rain or that midnight dessert.

Sweet nothings — Write one reason you're still in love on each slip of paper.
One more thought
Once you've filled your papers, hole-punch the corners and slip one balloon ribbon through each page. Place your bouquet in your bedroom, as the dining room decor for your dinner-date at home or as the greeting when your loved one first wakes up or first arrives home on Valentine's Day.
More on romance
Get back to bliss: Renewing your wedding vows
20 Minute dates
Too tired for sex: 5 ways to get in the mood when you're exhausted