Posted: Feb 11, 2013 7:00 AM
Having a romantic Valentine's Day celebration can be a bit overrated. Instead of waiting at a crowded restaurant for an overpriced dinner, cancel the sitter and spend the lovey-est day of the year with all your loved ones this Feb. 14.
Cook together
Gather your family in the kitchen and make a meal together. Give each member of your family a task — little ones can tear lettuce for a salad, tweens can set the table and teenagers can season and form ground beef or turkey patties for burgers.
Dine al fresco
Prior to dinner time, set up a table outside complete with candles or string white lights back and forth across your overhang and light a fire in the chimney or firepit. Once you've finished preparing dinner, bring it outside for a cozy meal under the stars.
After you finish eating, spread out a blanket (bring extras for bundling up) on the lawn, lie down and stargaze. Ask your children what shapes they see in the stars.
Skate date
Take the family out for a fun outing like roller skating or ice skating. You and the Hubs can sneak in a romantic roll around the rink hand in hand as the kids race by you.
Amusement for all
Take your family to a local amusement park for a special treat this Valentine's Day. No matter the ages of your kids, there is surely something for one and all.
Carpet picnic
One of my family's favorite things to do is have a "carpet picnic" in our family room. We set out a big blanket and dine right in the middle of the floor. We use paper plates and utensils for easy clean up on this family style picnic.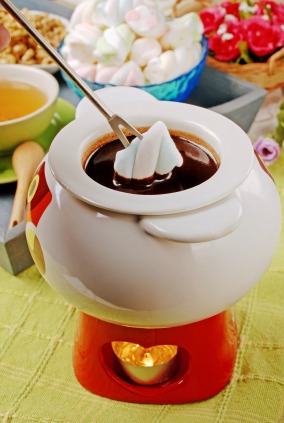 Family fondue night
What Valentine's Day is complete without chocolate? Set up a fun fondue treat for the whole family. Microwave melting milk and white chocolate pieces according to the package. Serve warm with brownie bites, strawberries and bananas, cheesecake pieces and thin slices of pound cake.
Movie night
The movie theater is bound to be crowded with couples on Valentine's Day. Instead of going out for a flick, stay in and create your own theater experience in the comfort of your own home. Rent a few family-friendly movies, pop some corn and cuddle up on the couch for a family-style movie night.
The family that sweats together...
Get the family together and head to the park or an indoor gym for a game of basketball or football. If you have little ones, you can simply work on a game of catch or tag. After you work up a good sweat, take your sweeties to the ice cream shop for a sweet treat.
More Valentine's Day family fun
How to make your own Valentine's Day cards

Make Valentine's Day special for your kids
6 Simple ways to make Valentine's Day special for the whole family