Posted: Jan 24, 2013 9:30 AM
Week one is in the books! I am feeling super positive about my progress so far, even though I'm far from perfect. My first week was a learning experience about what I did right... and what I did wrong.
Working out
Though I am signed up for the DB15 15-minute workout program on the DailyBurn, which calls for me to do one workout every day, I ended up working out five of the seven days. Pretty good, considering I haven't stuck to a regular workout program in I can't remember how long. My kids have even gotten in on the act with me! After I do my workout on the computer, we gather in the family room and exercise together. My kids lead this session which includes jumping jacks and toe touches.
Date night
I'll go ahead and admit that despite the no-alcohol rule, I did have a few drinks when the Hubs and I got a rare opportunity for a date night. I actually intended to give myself a full-blown cheat meal, but ended up ordering gluten-free tortilla soup without sour cream. I felt like it was a good choice considering we were at a Mexican restaurant where I would normally order a big ol' burrito with beans and rice — a carb-loaded favorite of mine. I did indulge in some chips and salsa (okay, and a mojito), which I know was a mistake.
Weekly weigh-in
Since it's been one official week since I started this challenge, I weighed myself. Though the number is going in the right direction, I was disappointed not to see a lesser number. No, I'm not sharing that number. Not yet. I will share my weight-loss so far at the half-way point... stay tuned!
Motivated for more
After recognizing some of the setbacks I made, I know where my weaknesses lie and I am prepared to work harder this week to fight off those temptations. I think the most positive part of this experience so far has been the me time I've allowed myself to work out. Even just doing something for 15 to 30 minutes a day has brightened my outlook and encouraged me to keep working towards more.
Stay tuned for next time when I'll be seeking advice from DailyBurn trainer Anja Garcia and nutritionist Alexandra Jamieson about how to stay motivated to exercise and eat right, while on vacation as my family prepares for a long weekend getaway.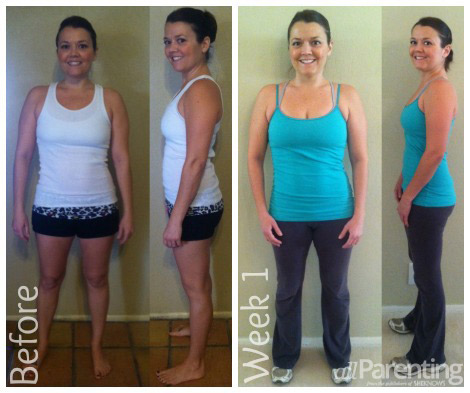 More weight-loss tips
The Best new fitness DVDs
Get motivated with group fitness
Healthy foods your kids won't hate