Posted: Feb 01, 2013 6:00 AM
It's Day 15, and I'm literally half way there. As I embark on week three of my personal weight-loss journey I am feeling on top of the world because I can really see the changes now — on the scale and off of it!
I weighed myself today. Yes, right after the temptations at the barbeque competition (more on that later), I tempted fate and jumped on the scale. And guess what? Drum roll, please... I'm 114.2! That's 6.3 pounds down from the 120.5 pounds I weighed on Day 1. I haven't weighed less than 115 in at least two years so this is a pretty exciting milestone for me in this journey.
Drum roll, please... I'm 114.2!
"
"
Change is good
Normally I would never weigh myself the day after returning from a barbeque competition because I would be puffy with barbeque and beer. But not this time!
Sure I had a few bites of my husband's barbeque (what kind of wife would I be if I didn't at least try it!) but I am seriously proud of my restraint all the way around. The weirdest part? I'm not even craving my usual vices like chips and beer. Throughout the weekend, I snacked on almonds, apples and peanut butter and lean deli meats wrapped in lettuce. I never felt deprived. I took walks with the kids, followed Anja's tips for working out without access to internet — and utilized our surroundings to help get my exercise.
The next 15 days
With 15 days left in my journey I am confident that I can shed the remaining weight (3.7 pounds, if we're counting) to reach my goal of dropping 10 pounds in 30 days. But now that I've come this far, I want more than that.
More weight, you ask? Maybe. But more importantly, I want to continue to see my body change. The biggest difference I've seen so far is in my stomach. It's a little flatter and a little more toned than it was when I started out 15 days ago.
When I really try, I can tell that my arms are gaining muscle, too. But I'm still hard-pressed to see a significant change in my thighs. So that's my focus for the next 15 days.
I've completed the 15 days of the DB15 program so I'm ready for the next step. For the next 15 days (and beyond), I am going to challenge myself with DailyBurn's Inferno workout series. I'm hoping this intense series will help get me to my goal of toning my legs, arms and stomach. Wish me luck!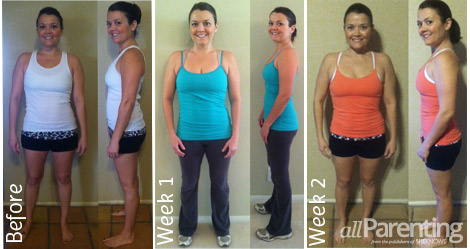 More on my journey
My personal weight-loss journey

My personal weight-loss journey: Week 2


My personal weight-loss journey: Week 2 update