Posted: Jun 11, 2013 7:00 AM
Maybe you've tried your hand at online dating, or maybe you even know someone who has that even found a partner in the worldwide web of love. Laurel Hausman's story in Chicken Soup for the Soul: True Love is a great reminder that no matter how long you wait or how you find it, love's worth it.
Written by Laurel Hausman, published in Chicken Soup for the Soul: True Love
Why not go out on a limb? Isn't that where the fruit is?
~ Frank Scully
"
"
"I'm not looking to meet someone. I have a great life. A man would just mess things up. Besides, if God wants me to marry, don't you think He will bring along the right person at the right time?"
My friend looked skeptical as she eyed me through the steam rising from our cappuccinos. "Did it ever occur to you," she said, "that God wants you to be looking? Sure, you have your teaching career, your house, your Beagles, and your independence. Perhaps a good relationship would add further richness to an already great life."
If you want me to look for a man, then please tell me where and how to begin my search, as I assume bars, nightclubs, and the underside of rocks are not your preferred venues."
"
"
I filed that last statement somewhere deep in my brain. In the weeks that followed I occasionally took it out, studied it, prayed about it, and then returned it to its hiding place. One day, while in the middle of this ritual, I noticed that my friend's words had increased in size. Taking root, they had spread like mint in a garden and, as such, could no longer be ignored. I was reminded of the Biblical account of Abraham, who sent his servant in search of a wife for his son, Isaac. Abraham did not sit around and twiddle his thumbs, waiting for a young woman to knock on the door of his tent. His plan involved deliberate action.
"Okay, Lord," I prayed. "If you want me to look for a man, then please tell me where and how to begin my search, as I assume bars, nightclubs, and the underside of rocks are not your preferred venues."
Rewind to 1970. I was sixteen years old and clueless when it came to flirting and dating. The only piece of advice my mother gave me on the subject of boys was, "Don't you ever call a boy on the phone! You don't want him to think you're fast."
Fast at what? Long division?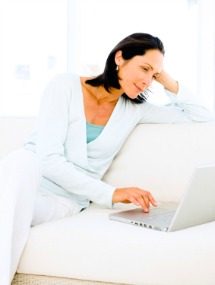 I heeded her advice, though I disagreed. It was a new era. The 60s mantra of "Free Love" still resonated amidst the disco balls; women burned their bras in Double D-sized bonfires; and Virginia Slims claimed we'd come a long way, baby. Yet there I sat, juxtaposed in time, imprisoned by my pink Princess telephone as I waited for Dream Boat to call. The Pill has been credited with setting women free, but I believe the credit belongs to the microchip. My mother may have told me never to phone a boy; she never said anything about e-mail.
Fast forward back to the twenty-first century. Here began my adventures in online dating, with its freedom to initiate contact regardless of gender. I decided I would not be found sitting in front of a pink Princess computer waiting for a mailbox icon to announce, "You've got male!" I resolved that when and if I came across an attractive profile, I would have no qualms over sending the first e-mail. The anonymity of cyberspace gave me opportunities to communicate with men without revealing my name or address until I felt comfortable doing so, if at all.
I was off, both excited and scared by this self-imposed journey. Occasionally, upon initiating contact, that first e-mail was also the last. This gave me insight into the risk-and-rejection factor that men have experienced for eons. It is not fun. However, taking these risks also brought some fascinating people across my path, which explained why I never met for dinner on the first date. I needed to know I could beat a hasty retreat if we had nothing to talk about, or if he wanted to spend the evening discussing his passion for nude motorcycling in Alaska. For these reasons, and because I love good coffee, I decided to stick with cafés for first meetings. First, however, I established some "Ground Rules." The slightest utterances of "ex-wife," "estranged wife," or "my wife's sleazy lawyer" were grounds for ordering my coffee to go.
I met a plethora of men who could not seem to talk about anything but their broken marriages and messed-up kids, and who had so much emotional baggage they could have used their own personal bellhops.
"
"
I met a plethora of men who could not seem to talk about anything but their broken marriages and messed-up kids, and who had so much emotional baggage they could have used their own personal bellhops. These people were common, but I encountered a few who were downright bizarre. Take the man who, after several e-mail exchanges between us, called me on the phone to chat. During the course of our conversation I mentioned how impressed I was that he was not bothered by our age difference, and by the fact that I was older. His response: "Oh, that's a turn-on for me. Also, you being a teacher really clinched it. You know, it's part of the whole naughty-older-teacher-thing." I mumbled something about having to grade my students' papers and hung up, feeling as if I needed a shower.
Another man, upon seeing the two wood boxes that contain the ashes of my deceased dogs, proclaimed that I was involved in "Satanic animal worship." He added that I could not love both animals and people; I had to choose. So I did. My Beagles and I waved goodbye as he drove off.
One day I came across the profile and photos of someone with whom I believed I had a lot in common, and I sent him an introductory e-mail. Within five minutes I received a reply in which he stated that while I "seemed very nice," unfortunately I was too short for him. (I hail at five feet, three inches.) He was tall and the woman of his dreams had to be at least five foot six. I thought this so ludicrous I decided to write again. By this time my sarcastic sense of humor was running in high gear. "As you seem to be a mature professional, I am rather surprised that you would be concerned with a relatively trivial matter such as height. For a tall person you seem to have some shortcomings." Suffice it to say he sent back a tirade that rivaled Mussolini's speech from the balcony.
As for physical attributes, online dating gave me but a glimpse of someone's true appearance. Some photos were blurred, some revealed only half a face, and others were so morose that they looked as if they were taken just moments before the walk to the death chamber. On the other hand, I viewed bulging biceps, washboard abs, and full heads of hair, only to later encounter clones of George Costanza. I wanted to tell these men that if middle age spread had moved in, and their hair had moved out, look at these changes as signs of experience and wisdom, rather than attempting to begin a relationship under false pretenses. In addition, I wanted to scream, "Please don't try the 'comb-over' in an attempt to look younger! It doesn't work!"
Please don't try the 'comb-over' in an attempt to look younger! It doesn't work!
"
"
Despite these experiences, I am very glad I embarked on this cyber-dating adventure. I downed a lot of coffee, but that was merely the froth on the cappuccino. In June of 2007 I read the profile of a man who was a committed Christian, lived only fifteen miles away, and who had also never been married. Intrigued, I positioned my fingers over my computer keyboard to send him a message. Then I saw it. He was forty-five years old and I was fifty-three. A full eight years stretched between us. Experience had taught me that men under the age of fifty typically were not interested in women who had crossed that great divide. I decided not to set myself up for disappointment and so did not contact him.
Two days later there was mail in my online box. I clicked it open and received the surprise of my life. "It's that guy!" I exclaimed, although no one but my dogs and God could hear me. "It's the forty-five-year-old-Christian-fifteen-miles-away-never-been-married-guy!" I wrote back and a correspondence began, followed by telephone conversations. One week before my online dating subscription was set to expire (I had resolved not to renew it), on July 30, 2007, we met in person over lattes and scones. We had no trouble recognizing each other, as both of us had posted current photographs. We talked for hours and agreed to meet again; then again; and yet again. We slowly got to know each other as friends. I was taken by his kindness, the respect with which he treated me, and the fact that he liked my dogs. We shared many common interests, yet willingly accepted one another's differences.
On Christmas Day, 2008, he asked me to marry him, and we were wed on April 4, 2009.
All of this transpired because we chose to step out from the familiar and the traditional, to trust God, and to risk walking the fiber optic line of computer dating, gigabytes from my pink Princess telephone.
*****

Going outside her comfort zone, Laurel found her happily ever after via the online dating world. If you'd like more uplifting stories delivered daily to your email inbox, sign up for the Chicken Soup for the Soul newsletters at http://tinyurl.com/SoupNews. Or to find out the latest titles, head over to www.chickensoup.com.
Reprinted by permission of Chicken Soup for the Soul Publishing, LLC © 2009. In order to protect the rights of the copyright holder, no portion of this publication may be reproduced without prior written consent. All rights reserved.
More from Chicken Soup for the Soul
Chicken Soup for the Soul: Walk On
Chicken Soup for the Soul: Dealing with the Truth
Chicken Soup for the Soul: Finding the Real Me