Posted: Aug 26, 2013 10:00 AM
On nearly any given Thursday, if you ask what my family and I have planned for the weekend, my answer is simple: "We have a barbecue competition." In response to this, you may conjure up images of grills lined up and guys flipping burgers. But the real picture is vastly different... and it means so much more to our family.
Where it all began
My husband, Sterling Smith, imagined that very picture before he attended his first barbecue competition in 2009 through his former job at a bank based out of Kansas City, Missouri. Instead he witnessed teams cooking meats like brisket, ribs, pork butt and chicken for hours in huge smokers. In his words, "I went the first year to help a team and got hooked right away."
My wife and I decided to compete as a family — as Loot N' Booty BBQ — so we can all be involved. She helps me so much during the competitions and my kids love to interact with people and sell people's choice samples.
"
"
He says, "When I came back, I started researching barbecue competitions in Arizona and found the AZ BBQ Club. My wife and I decided to compete as a family — as Loot N' Booty BBQ — so we can all be involved. She helps me so much during the competitions and my kids love to interact with people and sell people's choice samples."
The competitions are generally two-day events (at least) since the cooking process takes so long, in addition to the turn-ins, official judging and award ceremonies. During this time, many of the competitions also incorporate a fun festival with food vendors, kids' games and/ or rides, car shows... one competition in Dana Point even hosted a whale watching tour for the competitors!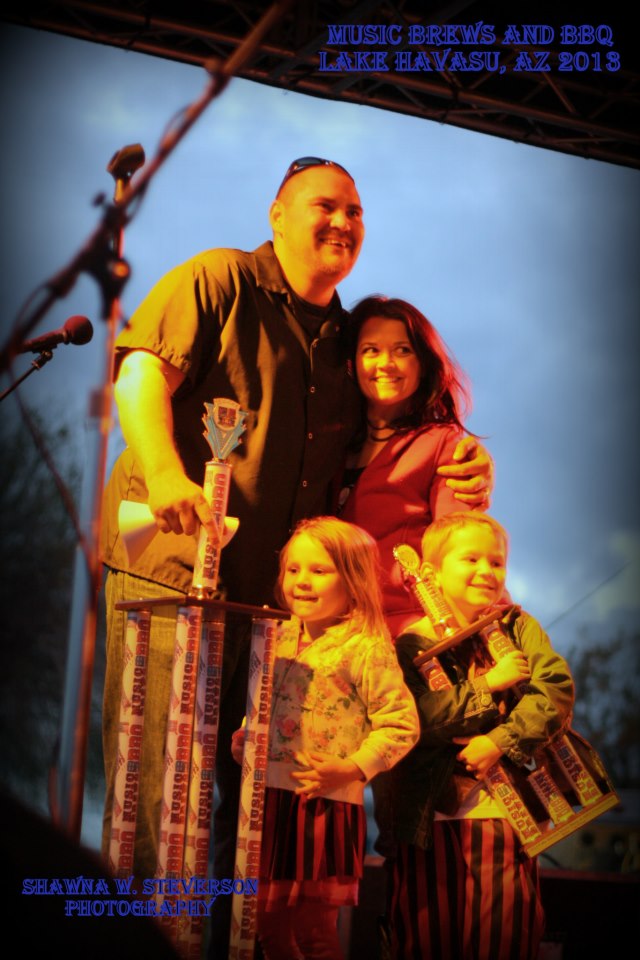 My husband adds, "We get to travel together to many great locations throughout the Southwest. We have competed in the mountains of Arizona, the deserts of Nevada and the beaches and amusement parks of California. The travel trailer we bought in 2011 has come in very handy — we use it a lot and my family loves when we get to be barbecue gypsies!"
We've had so much fun exploring new places as a family and a competitive team, and we've also met some amazing families along the way that enjoy doing the same thing. One of the coolest moments in barbecue happened for us earlier this year. My husband explains, "In January, we started the 2013 barbecue season in Lake Havasu, Arizona, at the 5th Annual Music, Brews, and BBQ Competition. There were 84 teams competing from all over the country. We ended up taking our first Kansas City Barbeque Society Grand Championship as a family. My son asks me sometimes at awards ceremonies if we are going to get the biggest trophy there. Well, I was able to get him the biggest trophy that day!"
Kids can compete, too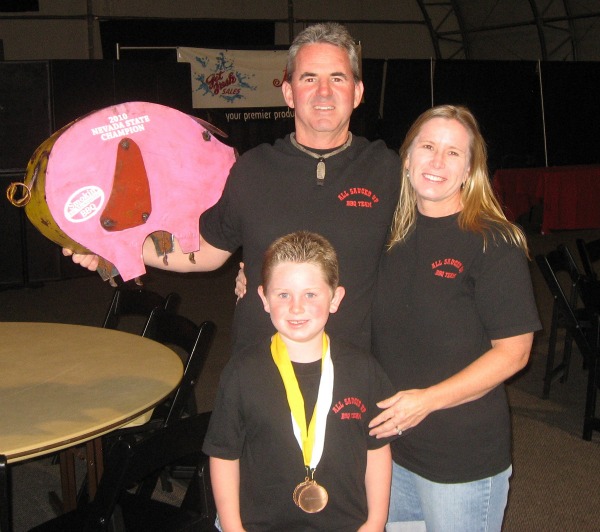 Dave Malone of All Sauced Up out of California has been doing competitive barbecue for five years, but when his friend was no longer able to help, his wife Mary Beth and their son Ryan, 11, got involved. Mary Beth admits that Dave does "absolutely all the prepping and cooking. I help with the packing and cleaning. Ryan just has fun."
But even Ryan's fun pays 0ff — he occasionally enters the Kids Q contests. And one of his entries from a contest — a hamburger — made it onto the menu at a fellow competitor's restaurant. Mary Beth says Ryan helps other teams prepare their meat boxes for turn-ins, carries their boxes to turn in to the judges and helps out with anything else they may need. She adds, "It is something we all look forward to because we have made so many friends on the circuit."
Parenting, barbecue family style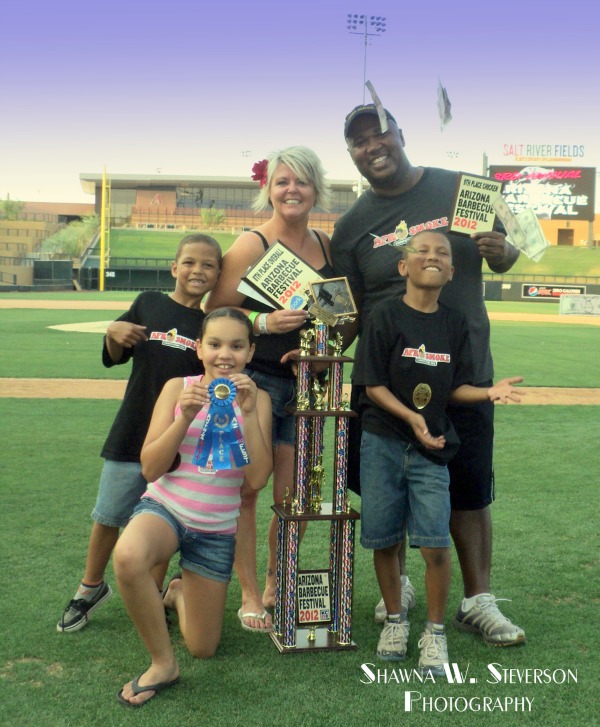 Shawna Steverson, who competes with her husband Rick and their two sons Xander, 10, and Canyon, 9, as Afro Smoke BBQ, says competitive barbecue has "served as an opportunity to enhance our parenting skills. We are able to reinforce concepts like teamwork, camaraderie, sportsmanship and humility."
She adds, "One of the reasons that it's so fun to bring the family out to the barbecue competitions is that the barbecue community really is one big family. We all take responsibility for each other's children as they roam the competition site. It's one of the last places where you can let your kids run wild and know that there are eyes always on them."
Sales girl in training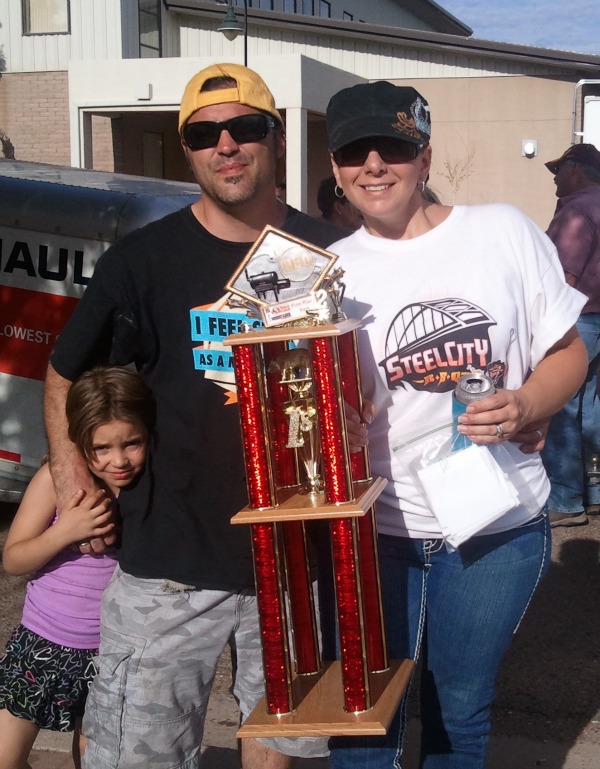 When the Coffini family of Gilbert, Arizona, began competing as Steel City BBQ in 2010 to quench Justin's desire to cook, Sharon and their daughter Giovanna, now 6, soon learned they loved the competitions, too — each for their own reasons.
Sharon says, "I became involved when I realized how much I liked the entire barbecue scene and family, doing people's choice, serving the public and meeting new people. I then took over cooking the chicken while Justin handled the other three meats. The competitive side of me likes the thrill of possibly winning."
As for their daughter? Sharon says, "Gia got involved when she realized that the events were fun, as she got to play with other families' kids, and she also really likes helping us out with people's choice serving. She's quite the little sales girl promoting our food to the crowds. She also now has a love for country music as she told me it reminds her of barbecue competitions!"
Bonding through barbecue
And I, of course, have my own reasons for loving the events. Though it can be stressful, as any competitive sport or hobby is, we've had some amazing times and been places we may have otherwise never traveled. But for me, it's the way my children rally around their daddy (and the way he embraces them) when they hear our name called during awards. It's the quiet times after the competitions when we go to out for a meal — just the four of us — and laugh over silly games like "Would You Rather." It's the moments I realize that our family is truly bonding through barbecue.
More on family bonding
Sports-fanatic family: Bond over a game
Road trip games that will bond your family
Sibling bonding