Posted: Jul 23, 2013 11:00 AM
When my husband first brought up the idea of taking our three kids — ages 8, 4 and 8 months — on a road trip throughout the Southwest, I thought he was crazy.
Contributed by: Mary Brune
If our two oldest can't manage a trip to the grocery store without a backseat bicker fest that inevitably ends in tears (usually mine), how could we handle two weeks on the road without losing our minds? But the chance to visit some of our favorite places in the Southwest with our kids and explore new ones together was just too good to pass up. "OK," I said, "I'm in."
First step: Planning
It definitely took some planning — and over packing (a bag full of Legos and baseball figures for our son, Sebastian; a sketchpad, art supplies and a few Harry Potter books for our elder daughter, Olivia) — before hitting the road. We rented a van that had a bit more space than our 2004 Prius (hello, Detroit … where's my electric minivan?) and came equipped with a DVD player for days when all other options failed to keep the peace.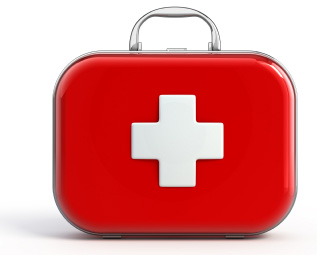 I also packed a canvas tote bag full of first aid supplies that I hoped we wouldn't need. A few years ago, when camping with friends in a remote area north of San Francisco, Sebastian, then 2 years old, developed a high fever and began to scream and hallucinate in the middle of the night. We hadn't brought anything with us that could bring down his fever. I had never felt so helpless — or so terrified. We left Olivia with friends and drove an hour to the nearest town to buy some Tylenol.
Sebastian had some residual hallucinations in the morning (declaring, "Mommy, I see a whale," while pointing at the pavement), but for the most part, he was back to normal. So this time, whatever the road wanted to throw at us, be it blisters, poison ivy, mosquito bites, cuts, diarrhea, fever, chapped lips, headache —whatever — I wanted to be prepared.

Sebastian holds up the certificate he received for hiking to the top of Chimney Rock, Colorado, one of the new national monuments we visited.
The trip
Our first stop was Moab, Utah, where we camped for two days at Dead Horse Point State Park with local volunteers who are working to protect areas around Canyonlands National Park in a new Greater Canyonlands National Monument. The campsite was stunningly beautiful, surrounded by orange-hued rocks, prickly pear cactus and a star-filled night sky. Olivia squealed with delight at seeing the Big Dipper.
Along with its beauty, Utah presented some challenges. June temperatures in the San Francisco Bay Area rarely top 70 degrees Fahrenheit, so we're not really used to temperatures north of 100. Next, it was the gnats. Then, as we were taking down the tent on the last day, Sebastian sat on a cactus. I performed, as my husband called it, "delicate mom-surgery" to remove all of the spines from his bottom. Afterward I applied some antibiotic ointment from my stash. The following day Sebastian declared, "My butt's happy today."

On the way to Brown's Canyon, Colorado, a proposed new national monument, we stopped off at Independence Pass to play in the snow.
Shockingly, we didn't christen our van's DVD player until the fifth day of our trip, driving through Aspen, Colorado, on our way to Brown's Canyon. The next day, we hiked with local volunteers who are working to protect the area as a national monument.

Olivia and Sebastian taking in the Rio Grande Gorge
Besides the joy of taking our children to see amazing natural places, the best part about our trip was introducing them to people who are working to make sure these places are protected so they can be enjoyed by future generations.
It's easy, standing on the rim of the Grand Canyon and being awed by its vastness and incomparable beauty, to take for granted that it has been protected for posterity. It's an entirely different experience — and no less transformative — to visit a uranium mine a few miles away and realize what's at stake for people like the Havasupai tribe who are fighting to protect their water and way of life.

Sign posted at an encampment of local volunteers and Havasupai tribal members working to stop the Grand Canyon uranium mine.
Reflections
Looking back on our trip, we sure packed in a lot of fun. In Utah, we mountain biked, viewed petroglyphs and had an afternoon play date with a local family that ended with dinner out and tearful hugs goodbye. In Colorado, we reconnected with old friends and made new memories. In New Mexico, we hiked with llamas in the new Rio Grande del Norte National Monument. And in Arizona, we participated in a prayer circle next to a sacred mountain with Havasupai tribal leaders.

Olivia with her llama companion, Diego, from Wild Earth Llama Adventures.
When we started out on our trip, I was worried that the kids would have a hard time being away from home and friends, stuck in the car for hours on end, and meeting dozens of new people on each leg of the journey. I shouldn't have worried.
As we pulled into our driveway back at home after 17 days, six states and over 3,600 miles, we were dirty and exhausted — and already talking about next year's trip! I'm not sure we'll be able to top llamas, though.
*****
Mary Brune has written about parenting and environmental health for The Huffington Post and Mothering magazine, as well as contributed to The Smart Mama's Green Guide. She currently serves on the board of Pesticide Action Network North America. Mary lives in Northern California with her husband and three children.
More on traveling with kids
The tricks for a successful trip
Throw Momma from the minivan
Emergency exit: Kids on a plane