Posted: Sep 05, 2013 9:30 AM
Give traditional handprint crafts a special twist when you help your kids create handy gifts that Grandma and Grandpa can use around the house, too. From step stools to tea towels, discover DIY gifts for Grandparents Day that let your children's handprints, footprints and thumbprints steal Grammy and Grampy's hearts.
Footprint step stool
Lift your child's grandparents' spirits while giving them a boost around the house with a DIY footprint stool that is sentimental and useful, too! Simply purchase a ready-made step stool like this one from AgainstTheGrainDecor and you're ready to create your very own Grandparents Day gift!
Materials:
Wooden footstool
Acrylic paint
Foam brush
Paint marker (optional)
Clear acrylic spray
Your child's foot
Directions:
Start by having your kiddo sit on the ground with bare feet facing you. You may want to do this outdoors or on a sheet or blanket you won't mind getting ruined by paint.
Using your foam brush, paint a medium to thick layer of paint on the bottom of your child's foot and help him stand up without letting his painted foot touch the ground.
Now, set the stool in front of your child and press his foot directly on top of the stool and remove to leave a paint footprint behind.
Repeat with your other children and allow to dry while you clean off your youngster's tootsies. You can also use a paint marker at this point to add your child's name and age to the footprint.
Once your footprint stool is completely dry, place the stool on a protected surface (such as back out on the sheet you just used) and add a clear coat of acrylic spray paint to the top of the stool to protect those precious prints. Allow to dry according to the directions on the can and repeat with a second layer.
When your footstool is completely dry, this DIY gift for Grandparents Day is ready to give Grandma and Grandpa a boost in the kitchen!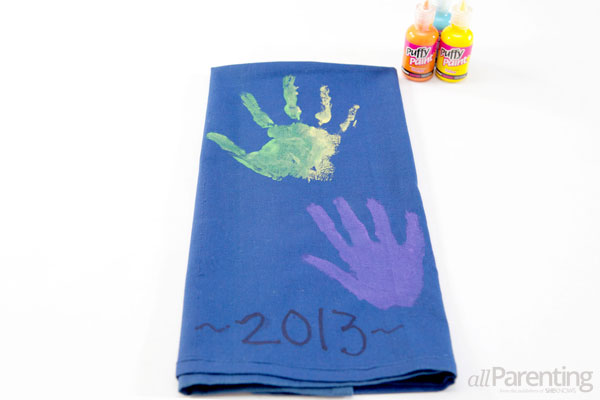 Handprint tea towel
Practical and thoughtful all wrapped up in one, giving Grandparents Day gifts adorned with your youngster's handprints will melt their hearts while keeping hands dry.
Materials:
Plain or solid-colored tea towel
Fabric paint
Foam paint brush
Fabric markers
Directions:
Wash, dry and iron your tea towel before printing. Then place towel on a flat surface with a protective layer underneath such as newspaper.
Using fabric paint, brush a liberal amount of paint on your youngster's hand and stamp a handprint face down on the tea towel. Repeat with your other children's hands.
After you've cleaned up their messy fingers, use fabric markers to write their names and the date or a special message to Granny and Pops that won't wash away.
Once dry, your personalized tea towels make a long-lasting gift on Grandparents Day, even after many washes!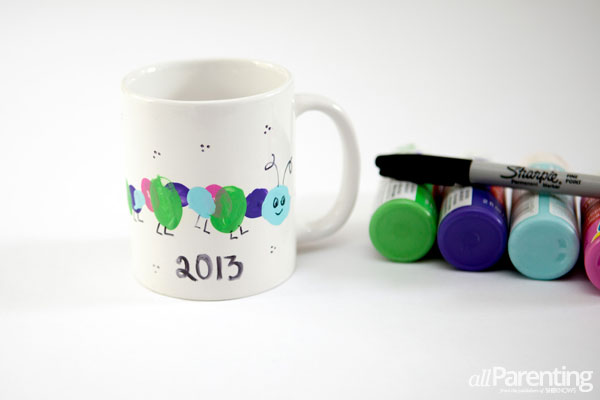 Thumbprint caterpillar mug
For families with more than one kiddo, it's easy to incorporate everyone's thumb prints into a cute caterpillar, including yours!
Materials:
White ceramic mug
Porcelain paint in colors of choice
Permanent marker
Oven
Directions:
Dip your child's thumb into the paint color of your choice and press it firmly onto the side of the mug without smearing. Remove thumb and repeat with thumbprints side-by-side until you have a caterpillar shape. Tip: Stick the mug into the oven at 350 degrees F for 10 minutes between colors and allow to cool to help keep paint from smearing from child to child.
Once dry, add on little legs, antennae and eyes to your DIY thumbprint craft using a permanent marker and follow the directions on the back of the paint container to cure.
Then place your mug in the oven at 350 degrees F for 30 minutes and allow to cool completely. Just remind Granny and Pappy not to stick their Grandparents Day gift in the dishwasher!
Love this? Find more crafts and DIY projects!