Posted: Nov 07, 2013 11:15 AM
In the past couple of weeks, I couldn't help but notice my Facebook feed slowly being taken over by friends who had turned into comic-style characters. Very sarcastic characters, at that. After some investigating, I found the source of this Facebook mystery and I've been laughing ever since. Meet Bitstrips, your newest social media obsession.
Meet Bitstrips
It seemed to happen overnight — my Facebook friends were slowly but surely all turning into comic-style cartoons. And, they were shooting rainbows out of their mouths, tackling daily tasks, like cleaning the toilet, with witty sayings, and generally making me giggle at inappropriate times. But best of all, and the reason I knew I had to investigate where these comics were coming from, is that each character looked so much like his or her creator! The likeness was uncanny for some of my friends, even down to their expressions and body language.
After some intensive Googling, I found that this hilarious and creative new social media obsession is Bitstrips, "instant comics starring you and your friends," according to the Bitstrips website. You start by creating an avatar of yourself, then use it in different pre-made single-screen comics, which can be shared via Facebook or other social media sites. Easy, fun and, admittedly, very addictive.
How to get started with Bitstrips
First things first, make sure you have a few minutes to spend getting started on Bitstrips, as you'll want to create your avatar in its entirely to make sure it saves, especially if you're doing it on your smartphone or tablet. In mom language, plug your kid into something so that you can have 10 minutes of uninterrupted, guilt-free mommy time.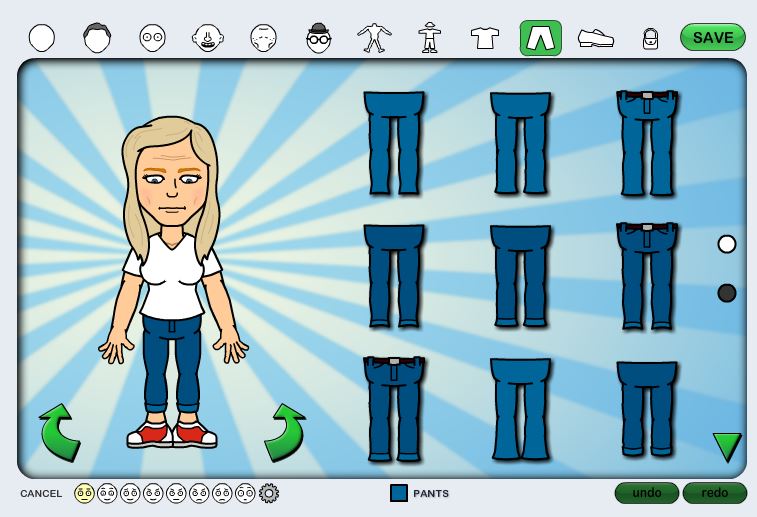 Apps are available for Apple and Android operating systems. Or, you can go straight to the source and get started with Bitstrips on their website, which will link you directly into Facebook to get started (scroll down to the green button that says "Design My Avatar"). I started with the app on my iPhone, but switched to using the website version of Bitstrips so that I could see my girl better and choose from a larger selection of clothes... and face wrinkles.
Before you jump into using Bitstrips, be aware that it is mandatory (at this time) to connect Bitstrips to your Facebook account. However, once you're in Bitstrips, you can customize how the program interacts with your Facebook account and can choose to keep your Bitstrips activity off of Facebook by choosing who is allowed to see it (Only Me is an option). Be sure to double check your access permissions on your phone or tablet as well, if you're using Bitstrips on those devices.
Designing your Bitstrips character
Now that you're into Bitstrips, the fun is just beginning. There are dozens of ways to make your avatar in your likeness — starting with the shape of your face — including your jaw line — and working through other physical features, such as eye color, pupil size and hair type, then moving onto the details that will really make her your own, from eyeshadow and hair accessories to wrinkles on your forehead and bags under your eyes, and even breast size. Yes, you get to pick your boob size.
Get your friends on board
Start your Bitstrips adventures by clicking on the "Make a Friend Comic" tab, then scroll through your Facebook friends who have also created avatars. You can instantly put yourselves in hilarious situations together, from sharing slushees (like my friend Traci and I do, apparently!) to getting yourself into realistic, yet slightly crazy, scenarios. The comics are just on the verge of being inappropriate and put some silly, yet smart, puns into action alongside the comics themselves, which change your avatars' faces, expressions and bodies, based on what's happening.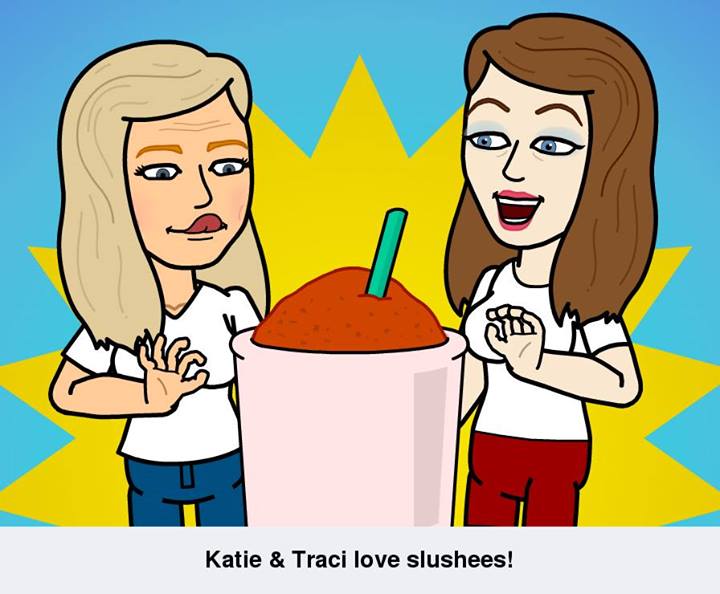 From your Bitstrips app, you can scroll through the archived feed of comics that your friends have made recently, just like you do on Facebook. As much fun as it is to create your own avatar, it's even more fun to see how your friends picture themselves and catch a glimpse into their sense of humor through the comics they've chosen.
Now what?
After you've created a few comics, either on your own or including friends, you can share them via Bitstrips on Facebook, Twitter or Tumblr. From there, you can save them to use other places or even create greeting cards, via Bitstrips, to send to your other Facebook friends.
There are also built-in options to customize the comics themselves, giving you the ability to change the saying on the bottom of the comic, add speech bubbles to your characters or even move her body into different positions. There are new comics added to Bitstrips daily, so you'll never grow tired of the antics your comic can get herself into.
While you're in Bitstrips, don't forget to update your profile picture by clicking your small square picture next to your avatar that says "Change Your Profile Pic," and then customize it by choosing from dozens of poses that are essentially your "selfie" on Bitstrips.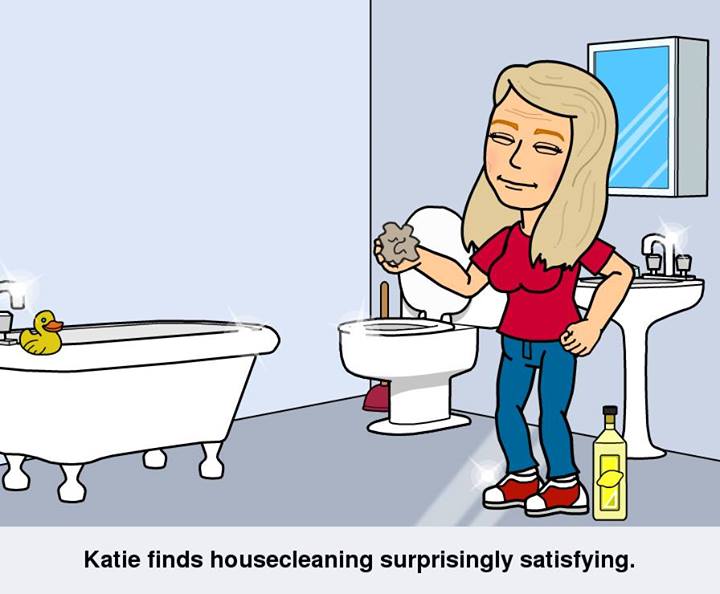 My mind is already going wild with the potential of Bitstrips. Hilarious "we're pregnant!" announcements? Yes, please. Bringing to life the mundane stories about what part of the house you're cleaning while your kids are at school? Done. Updates on your kids' latest accomplishments? I might actually read them now. Foodies who are constantly posting pictures of what they're eating for dinner? Way easier to stomach from a comic with freckles wearing a track suit.
If it were up to me, every Facebook status would be replaced with a Bitstrips version. And Bitstrips Katie agrees.
More on Facebook
Should you leave Facebook for these family-friendly social media sites?
10 Things I hate about Facebook
Why does Facebook remove parenting photos?